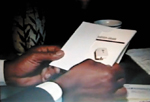 GRAMCO has developed a series of spiritual cards with Biblical scriptures.
Called the Prayer-Gram Grateful-Gram Spiritual Cards, they are available in the ten most used languages in the world. There are 30 cards in the series, ten each in two prayer grams and ten in a grateful gram. They come in three colors, the cards are standard size playing cards, and all come with an envelope. One of the prayer gram sets has a cross on the cover; the other features an image of praying hands. The grateful gram pack has a four leaf clover image on the front.
The wholesale price is $15 for the 30 card set, and suggested retail is $29.95.
For more information:
Gramco
1121 Yakima Street
Pasco, WA 99302
Tel.: 253-228-0878