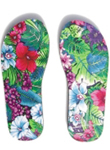 If you could wear a pair of fashionable sandals just by stepping onto them without having to secure a strap, would you? Barbara Peterson, owner of Prettie Pretties by BJ, knew she would, as soon as she saw them. "While out shopping, my elderly aunts saw these sandals that magically stuck to your feet without straps or holders, and kept bugging me to go see for myself," she recalls. "I finally gave in, went to the store to see them and thought, 'Look at that!'" Peterson was so impressed by the Topless Sandals made by That's Cool, Inc., that she went home, contacted the manufacturer, and ordered 1,650 pairs to resell. At the time, she was making jewelry and selling it at crafts fairs, but she knew the Topless Sandals were a hit in the making, and with the help of a small inheritance, she also bought $8,000 worth of beads to make branded Foot Jewelry to go along with the unique sandals, and she's never looked back. "The Foot Jewelry sells the sandals," she says.
The technology behind Topless Sandals is simple yet practical, as they're made from a skin adhesive similar to that used in medical prosthetics. "To put the sandal on," Peterson says, "you simply step on it heel first and then press forward. It'll stay on all day long. As a matter of fact," she adds, "the more heat and pressure the foot applies, the better they stick." The sandals have become a huge hit with kiosk and cart operators nationwide, and sell especially well in warmer and sunnier climates. "To remove them, simply peel them off your feet," she says. "When the sandals get dirty, just wash and brush them with a mild soap and water, and allow to dry thoroughly. The 'sticky' comes right back."
Based in Deland, FL, Peterson is the primary distributor for manufacturer, That's Cool, Inc., which makes the sandals here in the U.S.A. in Yuma, AZ. "It's a high quality product, guaranteed to retain its holding power for at least a year," Peterson says. Available in a variety of colors, Peterson notes she's always delighted with every shipment. "A huge bolt of fabric is cut and then put on the base," she says. The sandal is made in a multitude of patterns of primarily Polynesian or Island design fabrics, and shipped in random styles. Based on sales history, the company can give retailers a breakdown of how many of each size they'd recommend, based on order size, or they can fill the order per request. The sandals are packaged in a cellophane bag with a header for hook display. "We never know what's coming in, as it's always a surprise," Peterson says. Yet it's always something appropriate for the style. "Tropical colors are best sellers," she adds, "and pink is probably our No. 1 seller." About 90 percent of the sandals are sold to women, kiosk owners say, but 10 percent of buyers are men. "Guys don't like tan lines either," Peterson notes.
The Topless Sandals are available at various prices depending on quantity, but all enjoy a sizable markup. "For 20 to 49 pair, they wholesale for $6.50 each, but suggested retail pricing is $14.99 a pair," Peterson says. Orders from 50 to 499 pair drops the price to $5.50 each, and for 500 to 999 pair, they are only $5.25 each. Orders above a thousand pair drop the price even lower, to $5 a pair. Helping retailers to display and sell the product, Peterson also has spinning floor racks to expand kiosk space. While the rack sells for $30, Peterson currently has a new promotion underway. "If you order 72 pair of Topless Sandals, we'll throw in the rack for free," she says.
Prettie Pretties also has a less expensive version of the sandals available, mostly for use in spas or other locations where disposable sandals would be desirable. "The Spa Disposable Sandal was designed for one-time use in salons and spas, but is now used internationally in hotels, airports, hospitals, clean rooms, water parks and other venues where cleanliness and protection of bare feet is appropriate," Peterson says. The sandal has a 1/8? sole and comes in one size, and is perforated to allow the wearer to tear the product to the exact size of his or her foot.  "Right now the Spa/Disposables wholesale for $1 a pair in black only," Peterson says. "Or, for $300 you can get 300 pair, special ordered in a variety of pretty colors."
Realizing that some wearers might want to accessorize their new footwear, Peterson also manufactures and distributes a unique line of toe thongs. "Our Beaded Foot Jewelry is offered as an accessory to the Topless Sandals and sold wholesale by the dozen," Peterson says. "Retail, the product is sold in one piece units and is designed to be worn on one foot only, to accentuate the Topless look. The casual look of the sandal is made more formal by adding this accent piece," she adds. The toe thongs wholesale for $2.50 each for a minimum of 12, and the MSRP is $6 each. They come individually packaged with headers in assorted colors, and stretch so that one size fits all.
Prettie Pretties also offers two colorful anklets, the Crystal Brilliance and The Tier. "Available in both silver and gold with Swarovski Crystals, the Brilliance can be worn with a tank top, shorts and Topless Sandals, or dressed up with a prom dress," Peterson says. "This anklet is worn just a bit loose on the ankle, so it can move ever so slightly. When the sun hits the Crystals it just sparkles!" The Tier Anklet is both casual and dressy, worn with everything from shorts to jeans to formal wear. "For the best effect it's good to wear this Anklet a bit snug, so it will stay with the Swarovski Crystal Drop in the center of your foot," Peterson says. "It's a perfect focus while wearing the Topless Sandals," she adds. "The Diamond Cut chain design adds sparkle in the sun, and it's available in either silver or gold." The Crystal Brilliance wholesales for $9.50 and retails for $22. The Tier wholesales for $8.50 and retails for $20. A tabletop spinner model to display the toe thongs and other jewelry is available for $24. In addition to the floor and table spinner racks, Prettie Pretties offers banners to alert customers that Topless Sandals are available at the location. They can be hung on the wall or suspended, depending on your setup. Pricing is very affordable, only $21 and up, depending on the size that works best.
Interested kiosk and cart owners can, "dip their foot in," and order a minimum of 20 pair of Sandals or 12 toe thongs to see how they sell. "Registration is free and easy through our website, and we usually ship the same day. Smart retailers will get their orders in early," Peterson says. "Once the warm weather hits, we predict our Sandals and Foot Jewelry will be the hot items of the year."
For more information:
Prettie Pretties by BJ
240 North Delaware Avenue
Deland, FL 32720
Tel.: 386-738-1334
Website: www.topless-sandals-wholesale.biz