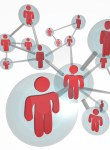 New research from MerchantCircle, the online network of local business owners, shows that such retailers are flocking to simple, free marketing methods like social media sites. The findings were uncovered in the group's quarterly Merchant Confidence Index survey of more than 8,500 small and local business owners across the U.S.
"Online marketing continues to be a challenge for most local businesses, and many merchants are working with very small budgets and almost no marketing resources," Darren Waddell, vice president of marketing at MerchantCircle, said in a statement. "The marketing methods we see gaining the most traction are therefore the ones that offer merchants simplicity, low costs and immediate results."
The data from the survey reveals that local merchants, who have very limited time and money for marketing, are gravitating toward simple, low-cost online marketing methods such as Facebook and other social media, as well as toward tried-and-true methods such as search and email marketing. The research also demonstrates that while new marketing services such as mobile marketing and group buying are generating significant buzz in the media, local merchants have yet to tap these marketing methods.
Among the findings of the survey:
More than half of local merchants are spending less than $2,500 a year on marketing, and 60 percent have no plans to raise their budgets this year.
With its huge consumer adoption, ease-of-use and low barrier to entry, Facebook continues to be a popular way for merchants to market their business, with 70 percent using the social network for marketing, up from 50 percent one year ago.
Three of the top marketing methods for local businesses — social, search and email — are cited as being the most effective.
The complete story from MerchantCircle begins HERE.