By Jaclyn DeFeo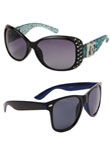 The start of the New Year finds holiday sales a distant memory, as retailers turn their focus to 2014's up-and-coming spring lines. Sunglasses, both classic and trendy, are a big part of that lineup, and can be a source of profits for just about any retailer. Whether it is sports eyewear, brand names, new designs or vintage frames, each and every style offers a rewarding return. Retailers are wise to stock their shelves with a variety of sunglasses from wholesalers with proven success in covering trends, year after year.
Pacific Link Wholesale Sunglasses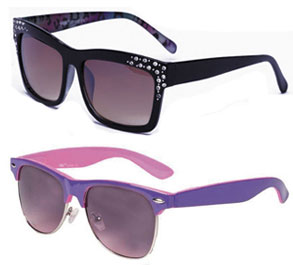 Pacific Link Wholesale Sunglasses is one of the leading wholesalers providing ongoing profits to retailers entering the sunglasses market. Pacific Link's offerings include the main sports sunglasses lines, ELEMENT 8 and VERTX, which continue to be a big part of the business. Pacific Link's VOX line of fashion sunglasses also offers many favorites, including retro Wayfarers reminiscent of the 70s and 80s, frames showcasing rhinestone embellishments, and bright and neon colors. David Chen, president, can't deny that classic looks are also hot to stock this year, predicting, "Black is back for 2014."
Pacific Link is focused on more than just frames when pinpointing top consumer choices for 2014. The company also incorporates features like shatterproof polycarbonate lenses, which are standard in all Pacific Link's eyeware. The polarized 100 percent polycarbonate lenses are rapidly gaining popularity, according to Chen. "Basic sunglasses give 100 percent UV protection, but they do not block glare. Polarized lenses block the sun's reflection." This detail alone has Chen forecasting a rise in consumer demand for his products. Pacific Link's inventory assures retailers extraordinarily high profit margins. The company wholesales regular sunglasses for $2 to $4 a pair, with an average retail price of $15.99. The company's polarized sunglasses wholesale for $38 to $78 per dozen. "With the increase in their popularity, however, we expect to see a rise in wholesale and retail pricing for 2014," adds Chen. Buyers may visit Pacific Link's ecommerce site to obtain product details, as well as view a selection of industry specific point of purchase displays. Orders can be placed by phone.
Mass Vision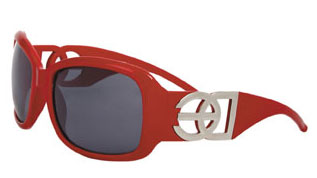 Mass Vision has a more narrow focus on fashion frames, and reports that this category of sunglasses offers a wide variety of high profit choices. According to company president, Anthony Masiello, today's sunglasses designs, plus those predicted to sell best in the coming year, offer quality, advanced features, and a fashion forward element. "What excites me the most is introducing our new styles to our retailers, and one week later finding out they made great money selling them," Masiello states.
Some of Mass Vision's best sellers are Aviators and Wayfarers, which can be purchased in various colors and patterns. "These are fashion trends that are here to stay," says Masiello, "while some of the newer trends will be camouflage." The company currently carries around 20 styles of camouflage sunglasses, including pink camo with rhinestones. Regardless of style, the wholesaler keeps costs low and quality high. "Our sunglasses range from $14 to $60 per dozen. The average retail price is about $10 a pair, with many retailers having success selling three pairs for $20," says Masiello. "Our high-end sunglasses retail for $15 a pair, or two for $25." Mass Vision also offers retailers a variety of displays for both counter and floor marketing, either sold separately or with a pre-packaged selection of sunglasses.
CTS Wholesale Sunglasses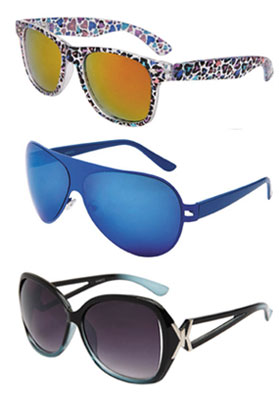 Kirk Bachelder, CEO of CTS Wholesale Sunglasses, assures customers that with over a thousand styles of sunglasses to choose from, his products appeal to just about anyone. The CTS inventory includes classic best sellers such as Aviators and Wayfarers. Small adjustments and new fashion elements keep these top sellers trendy, and the company is adding a lineup of high fashion Aviators this year. CTS has also found success in selling novelty glasses over the years, offering hundreds of novelties such as the well-known shutter frames and more. "This year's new trend is sure to be cut out sunglasses," Bachelder predicts. "These glasses offer both fashion and fun, with sleek designs, multiple color choices, and a new lens shape offering functionality, while showcasing the frame's delicate detail."
CTS sunglasses wholesale for $8 to $40 per dozen, with the majority priced at $20 per dozen. The company offers additional discounts of 10, 15 and 20 percent based on volume. Retail prices range from $10 to $20 per pair. Bachelder agrees with Pacific Link's David Chen, stating: "There will certainly be a higher price point for polarized glasses this year." For CTS, it is all about satisfying retailers, so they can satisfy customers looking for the hottest fashion trends. There is no minimum order.
Topper Liquidators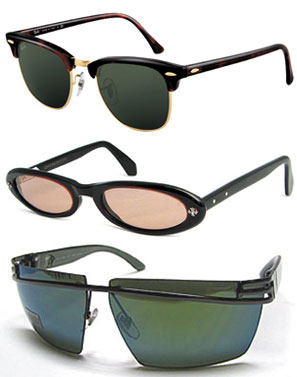 Topper Liquidators has another satisfying solution for retailers trying to turn a profit in sunglasses this year. The company sells numerous types of overstock merchandise, and is known for its array of fashion accessories, including sunglasses. "Topper Liquidators is an ideal source for wholesalers and retailers looking for a source of quality wholesale lots of products that will make any reseller a fair profit," explains Stephen Stewart, company president.
Purchasing thousands of sunglasses closeouts, Topper Liquidators has the ability to offer a wide variety of trendy styles. The firm receives new designer sunglasses every week from authentic sources. "We have a selection that includes Ray Ban, Gucci and Armani, in very popular designs at highly competitive prices," says Stewart. "Prices start as low as $3 a pair, and allow for extreme markups." It is the company's direct buying and elimination of the wholesale middleman that allows for highly competitive savings to its inventory buyers, and in turn a higher profit margin at resale. Besides brand names, some top trends include retro styles like the cat eye look, and authentic vintage glasses from 20 to 40 years ago, Stewart points out. There is no minimum order required, and sunglasses can be purchased in singles or by the lot. Buyers are invited to shop online at the company's website, and take advantage of its many specials.
With the right sources, selling sunglasses will prove to be profitable for many merchants throughout the New Year. Sunglasses are more than a one-time purchase, and are often a repeat sale to consumers looking to grow their fashion accessory collections. Offering a variety of styles and designs, from traditional to trendy, will suit the needs of customers in many types of retail stores. From the looks of things, brand names, new takes on old designs, and vintage sunglasses are here to stay, for another year at least.
Pacific Link Wholesale Sunglasses
1223 Coronet Drive, Suite 3
Dalton, GA 30720
Toll Free: 866-824-0079
Tel.: 706-275-0079
Website: www.sunglassespacificlink.com
Mass Vision
315 Halvern Cove
Rochester, NY 14622
Toll Free: 877-609-9968
Tel.: 585-254-3910
Website: www.massvisionsunglasses.com
CTS Wholesale LLC
3525 Brady Ct. N.E.
Salem, OR 97301
Toll Free: 800-796-3486
Tel.: 503-364-3486
Website: www.ctswholesalesunglasses.com
Topper Liquidators
2601 John P. Lyons Lane
Pembroke Park, FL 33009
Tel.: 954-454-1300
Website: www.TopperLiquidators.com