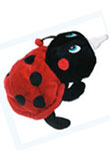 Bottle Pets are stuffed animals that double as baby bottle covers, keeping feeding time or anytime soft and entertaining. These plush friends insulate baby's bottle, keeping cool beverages cool and warm beverages warm. Additionally, Bottle Pets' cushy ears, arms, legs and more make bottles easier for babies to grasp. The product serves as a play toy, on or off the bottle, and keeps babies engaged while in a car seat, stroller or shopping cart. Made of 100 percent polyester, Bottle Pets fit all major baby bottles, and even accommodate larger ones. They are machine washable and safety approved. Even moms who exclusively breastfeed their babies often keep a few pets on hand, since they can be used for expressed milk, and offer baby cuddly comfort when mom is not within arm's reach.
Fits sippy cups, water bottles & more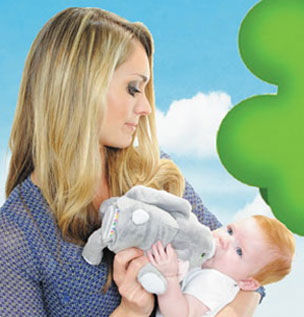 In addition, Bottle Pets convert to sippy cup use and accommodate other beverage containers as well.  "Pre-teens love them over water bottles," states Lisa Moran, national sales manager. "We've even seen dads use them with drinks. The longevity of this product is incredible." At present, 14 styles comprise the Bottle Pets family: Si the duck and Willy the buck, complete with camo packaging; Riley the bunny; Drew the ladybug; Dylan the octopus; Bailey the cow; Gracie the pig; Milo the monkey; Sammy the bulldog; Lilly the lamb; Leo the lion; Bentley the blue bear and Bella the pink bear; and Noel the reindeer. Wholesale is $9.50 and retail is $19.99.
Two moms created Bottle Pets. The inspiration came after they had their own children, and saw the need for something cuddly and practical that could insulate liquids in bottles. "Bottle Pets have been a huge success," Moran reports. "Baby bottles are a necessity that most homes with babies stock, and they make great gifts. Retailers say their customers love our products because they are unique, and an affordable baby shower or maternity gift." Bottle Pets has a sales and marketing arm that is run strictly by moms. The organization is called MOMS: Modern Organization of Motivated Sales. Its objective is to help moms supplement their incomes, while allowing them to be in charge of their own work schedules. In addition to momprenuers, several corporations and catalog companies are selling the products.

Buying details
The opening order is a case pack of 24 assorted pets, and minimum reorders are 12 pieces. The firm has a fixture with signage and photos of babies with Bottle Pets that retailers can download and use for social media and in stores. A free four-tier spinner rack is included with the purchase of 48 or more Bottle Pets, and buyers pay shipping charges. To learn more about Bottle Pets, visit them at AmericasMart in Atlanta, January 9-13, and the Dallas Total Gift show, January 16-19.
Bottle Pets
20058 Ventura Blvd., #181
Woodland Hills, CA 91364
Toll free: 888-317-8107
Website: www.bottlepets.net