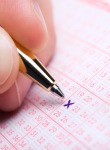 New Jersey lawmakers are in the midst of one of the largest reorganization efforts to the gaming industry in decades, with legislators now appearing set to rework the lottery system. In January, lawmakers approved legislation that would make New Jersey the first state to regulate Internet gambling. Online poker, slots, craps, roulette, blackjack, and other games would all be legalized if Governor Chris Christie signs the legislation.
But in December a bill passed the Assembly Regulatory Oversight and Gaming Committee that would allow gamblers to buy tickets directly from the lottery online. That would be troublesome for retailers throughout the state. "If I had the option to buy my lottery tickets online, I probably would do that," Maurice Burns told CasinoGamblingWeb.com. "Most of the time, I end up buying other items at the store that I don't need when I go out to buy my lottery tickets, so this would save me a lot of money." That's where the problem comes in for independent retailers.
The full story can be found HERE.