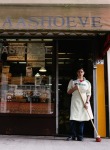 For the fourth year in a row, a national survey of independent businesses has found that those in communities with an active "buy local" campaign have experienced markedly stronger revenue growth compared to those located in areas without such a campaign.
The survey, conducted by the Institute for Local Self-Reliance over an eight-day period in January, gathered data from 2,768 independent businesses, including retailers, service providers, restaurants and others. It found that those in places with a "buy local" initiative reported revenue growth of 5.6 percent on average in 2010, compared with 2.1 percent for those elsewhere.
Nearly two-thirds of respondents said that public awareness of the benefits of supporting locally owned businesses had increased in the last year, and almost half reported that the campaign had brought new customers to their business. Fifty-five percent said it had made existing customers more loyal.