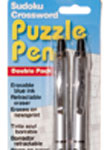 We've all attempted it: filling out the newspaper crosswords with pen, sure of the answers we write, until it's too late. For this reason, Bernard Rome, president of Puzzle Pens and an avid New York Times puzzler, came up with a unique erasable, retractable and refillable pen that writes more vividly than a pencil, and erases more easily and cleanly. "The Puzzle Pen is perfect for Crossword Puzzles, Sudoku, Word Search and any game or puzzle on paper," says Rome. In addition to these one of a kind Puzzle Pens, Rome also determined there was a market for puzzles, similar to those found in the New York Times, LA Times and The Wall Street Journal.
According to Rome, these famous puzzles increase in difficulty Monday through Saturday, with Sunday's puzzle being equivalent to Thursday's in difficulty. "I'd say about 70 percent of puzzlers can complete Monday's and Tuesday's puzzles, but have to wait until the next week to complete another," explains Rome, "Myself included." However, with Rome's Crossword, Sudoku and Word Search Puzzle Packs, puzzlers don't have to wait until Monday or Tuesday. And with the Large Print Puzzle Packs, puzzlers can enjoy their puzzles without eye strain. "Big type and a large writing surface make the Large Print Puzzle Packs and refills perfect for seniors, and those who simply prefer a puzzle that's easier to read," says Rome.
Each pack, wholesaling for $6.75 with an MSRP of $14.95, includes a 7.5 by 10 inch writing surface, and puzzle pad of 40 new and lively puzzles for all levels of difficulty, even a popular pack for novices. The pack also includes Rome's signature Puzzle Pen. "And if you are moving through your puzzles quickly, there are refills available. We create new puzzles monthly," notes Rome.
Rome believes his product speaks for itself. "We have no minimum order, but our average order is $160, with an average reorder of $240," he says. "The refills make for good customer loyalty." Puzzle Pens can give any store a new department in one square foot, claims Rome. "In one square foot our display holds six crosswords, sudoku puzzles and word searches, as well as 12 refills of each and a special compartment for our pens," he says. "It's a compact but profitable setup."
For more information:
The Rome Group, LLC
P.O. Box 1000
Killington, VT 05751
Tel.: 802-422-4466
Website: www.puzzlepen.com