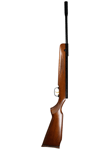 For Pyramyd Air, a growing airgun retailer and dealer, business isn't just about selling its airgun and airsoft products, but also building an informed shooting community. As Joshua Ungier, founder of Pyramyd Air, explains in a Smart Business Cleveland interview, "What drives me in this work that I do is the fact that I'm working to try and achieve something. Working with people, teaching people about air guns, how to buy the right gun, how to safely use it, that is my passion." Ungier's commitment to his passion has become the inspiration for Pyramyd Air's company mission, "To grow the shooting community through delivery of stellar products, knowledge and service, ensuring safety and guaranteeing limitless enjoyment," confirms Val Gamerman, president of the company. Among the stellar products for limitless enjoyment are 4,000 airgun and airsoft gun products, as well as accessories, at reasonable wholesale pricing.
Straight Shooter in Regards to Customer Service
While selling to a lot of mom and pop shops, Pyramyd Air also frequently caters to larger sporting goods and firearm stores. In regards to pricing, Ungier continues in his interview with Smart Business Cleveland, saying, "We're not going to sell you a $20,000 rifle if that is not what you want or need. What we are here to do is service the customer, take care of the customer and make sure they get the product that is right for them." This business model, plus the innovation of online ordering in 1999, has led to over 500,000 shipped orders, as of  2009. And, while both the airgun and airsoft gun product lines continue to grow and receive interest, "Airsoft keeps growing in popularity at an amazing pace," notes Gamerman. A possible reason for this is these types of guns allow for easy training, and provide fun in a very safe manner.
Pyramyd Air's website provides the shooting community not only with access to the company's catalogue, but also gun safety and gun use instructions via blog, video, email, and more. Among its other customer-centric offers, Pyramyd Air offers free shipping on orders that are $3,000 or higher, but does not require a minimum order size. Drop shipping is also available. It is requested that those looking to carry Pyramyd Air's product lines contact the company directly for more details on the existing dealer program in place. If the 4,000 products already offered aren't enough, Gamerman highlights the fact that, "some new and exciting CO2 BB guns (.177 cal), as well as some larger caliber (big bore) hunting air rifles (.357, .45, and .50)," are soon to come.
For more information:
Pyramyd Air
18370 South Miles Rd.
Warrensville Hts, OH 44128
Tel.: 888-262-4867
Website: www.pyramydair.com