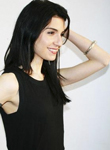 By Jasmine Glasheen

In 2017, fashion will continue to move away from skintight clothing. Since fashion operates like a pendulum, we will see some extremely baggy clothing before style gravitates back towards a median of actually flattering fits. There's a revolutionary vibe happening in fashion right now. Statement t-shirts and sweaters will continue to spread. Expect leather jackets with punk patches. Conversely, crisp and preppy pastels will make a comeback in 2017, as will clothing with maritime influence. Look for swimwear-inspired clothing, but stay away from anchors – they still feel tired.
Athleisure is making a slow exit, with ballet-inspired pieces taking its place. Shimmery pleated skirts have already hit the mainstream. Keep an eye out for glimmering nudes and an odd resurrection of bubblegum pink.
The millennial mindset is complete awareness of one's own ecological footprint, so reworked and repurposed apparel is here to stay. Look for revived brands, styles, and icons from the past. For inspiration, check out Levi®'s Redone, where they're charging more for repurposed denim than for the original product. What's old is not only new but profitable.