By Christian Kratsas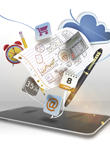 Nearly 1 billion websites exist out there in the World Wide Web. Millions of those websites have hundreds of individual landing pages. We are not math experts (just marketing ones), but we can assume that is a lot of landing pages! If the web is crowded with so many individual web pages, how does anyone find them? There is a lot you can do to optimize the pages on your website so more customers will find your business. Here are a few tactics to get you started.
Optimize for all screen sizes
When Google first launched in 1998, Facebook in 2004 and YouTube in 2005, the Internet was being viewed on large clunky computer monitors. Fast-forward to 2015 and babies are watching videos from their parents' phones while grandparents like their children's photo albums on Facebook from their tablet. Nearly half of the world's Internet users access the Internet via a mobile device. That is why it is important that the landing pages on your site are optimized for all screen sizes.
Ensure that your landing pages look great on all devices with a responsive website. A responsive website will adapt and change orientation based on the different screen sizes that are being used to access the site. It takes a lot of work to code your own responsive website. Luckily, there are options such as SnapRetail to help you build a professional mobile-friendly website, no code required. If your site is difficult to navigate on a smaller screen, most of your web traffic will leave your site instead of trying to click through small links, expand to read text and scroll left and right to read a single sentence.
Once your site is responsive, customers will stay longer, learn more about your business, shop more and remain loyal. Besides boosting your bottom line, these benefits can also help improve your ranking in major search engines. The longer customers stay on your website, the better your website will look to search engines. Which, in return, will rank your business higher in the search engine results. And if more traffic, customers and search ranking is not enough, Google is rolling out an update that will slightly penalize web pages that do not provide a good mobile experience.
Incorporate important SEO practices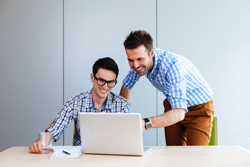 As we mentioned, there are many benefits to a responsive website, better search ranking being one. However, there are other quick tactics you can implement within your website's landing pages that can elevate your presence in a potential customer's search query.
One of the most important SEO components of your landing pages is site title tags and Meta descriptions. These will give the search engines and the searcher more information about your landing page. Both are visible within the search engine results pages; the title tag is the blue hyperlink and the Meta description is the longer text below. You can modify the title tag and Meta description for each landing page of your site within your HTML code. Title tags should be about 50-60 characters in length, describe the page and include your store name at the end. Meta descriptions should be about 150-160 characters and compel the user to click through to your page.
Title tag: Latest News, Fashion & Events | Modern Finery
Meta description: Stay up-to-date on all of Modern Finery's happenings. RSVP to an event to receive updates via email.
Two other components that appear on your landing pages and not in the search results are your headers and sub-headers. These will give the search engines more information about your page while organizing the content you want your customer to read while they are there. Your headers are usually the largest size font on your page and can be found in your HTML as <h1>YOUR HEADER</h1>. Your page header should introduce the main content on the page. Your sub-headers are smaller than your headers but larger than your body copy. These are usually labeled in your HTML as <h2>, <h3> or <h4>. Your sub-header should work together with the header and provide more detail of the rest of the page.
Header: Modern Finery News
Sub-header: Be the first to hear about store events, fashion advice and new product arrivals
Making small improvements on your site
There is no silver bullet to a perfect web page. We began with the most important tactics to help you build the foundation. Once your site is mobile-friendly and your title tags, meta descriptions and headers are helping to drive traffic to your site, you can move on to more in-depth tactics.