By Graham Williams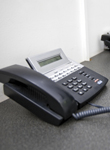 Delivering superior customer service is certainly a top priority for independent retailers, and a key way to set themselves apart from the big-box retailers. After putting in the hard work to cultivate long-term customers by providing stellar service, the last thing you want is for technology to thwart those efforts.
For a small retail business, it is especially important to be in high-touch with customers, reaching them via a variety of channels. While mobile, social and online communications channels are on the rise, it is important not to ignore the value of a phone call. Whether a customer is calling you or you are reaching out, it is critical to have a phone system in place that ensures you can provide quality service.
All phones are not created equal. A retail business should consider making the relatively small investment in a business phone system rather than using an off-the-shelf phone meant for home use. Manufacturers targeting the small business market offer cost-effective options with the features you would expect for a large business, but on a smaller scale. When determining the best phone solution for your business, key features to evaluate include:
Number of lines: Do not lose out on a customer because they are met with a busy signal or their call goes straight to voice mail. Consider the amount of calls your business gets and ensure your phone can support at least two, but preferably four lines.
HD audio: Superior call quality is key to effective communications with customers, and retail business owners will want to look for phone systems with HD Audio G.722 wideband codec support.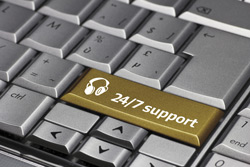 Wireless headsets: For employees working in the storage room or on the sales floor, wireless headsets are critical to ensure they do not miss a beat when answering the phone. When selecting a wireless headset, ensure it has long range that does not interfere with Wi-Fi signals. A DECT-based headset provides this range along with superior audio quality.
Cordless handsets: In addition to headsets, cordless handsets let employees answer calls while they are on the move in the store.
Two-way call recording: This feature captures both sides of a conversation, which is useful if your employees spend time gathering detailed information over the phone.
Auto attendant: While having a person answer a phone call directly is always the best outcome, it may not be possible if employees are busy with customers. Auto attendant can program your phone systems to answer outside calls, automatically forward calls to specific extensions (helpful if you know the main line may not have coverage for a bit of time), and let callers record voice messages when there's no one available.
Do not let poor phone technology come between you and your customers. A business phone solution is an easy and affordable way to empower your employees to deliver the exceptional customer service for which they strive.