From top concessionaires, museums, and zoos to destination retailers and other specialty stores, buyers from across the nation flocked the Las Vegas Convention Center for the September 13 – 16, 2017 edition of the Las Vegas Souvenir & Resort Gift Show. Bringing together more than 1300 booths, over 150 new exhibitors, expanded networking opportunities and three new product sectors – the show continues to secure its position as a productive meeting place for the souvenir industry.
"This show truly gives souvenir and resort buyers a one-stop shopping experience," explains Lisa Glosson, vice president, gift/souvenir, Urban Expositions. "In addition to the selection of customizable products and latest introductions, our team worked hard to make this show not only great for purchasing, but also a hospitable trade show experience. With the introduction of new pavilions and an expanded schedule of events — we pride ourselves on meeting the needs of both our buyers and exhibitors and will continue to do so in the coming years."
Headlining the new 2017 features, the show's Native American Pavilion, Gourmet, and Boardwalk sectors gave retailers even more resources and merchandising ideas to help differentiate their stores.
New Native American Pavilion
The Native American selection was a hit with retailers looking for one-of-a-kind designs and authentic American Indian artisan crafts. The new pavilion also hosted a number of events and daily cultural demonstrations, including Native American jewelry making, dream catcher demonstration and musical story-telling performances. The pavilion also hosted a special networking event and silent auction where industry members had the chance to bid on products and travel packages donated from exhibitors and concessionaires and all proceeds benefited the American Indian College Fund.
Educational Resources
In addition to the growing product selection, the show also offered a number of educational programs including a Keynote Address and book signing event led by Former Official Photographer for the National Park Service, Frank Ruggles; a session presented by Diane Sulg of CRAFT on "How To Jump Start Sales With Made In American Products; and a curated Made In America Show Floor Tour led by Tommy Brown, Retail Manager & Buyer of Conservation Goods for the Saint Louis Zoo.
Retailers also enjoyed a variety of networking events and show hospitality, including the Living Legends Association event honoring Jim Sherwood of Lone Rock with the Golden Lily Award, ZAG reception, and more.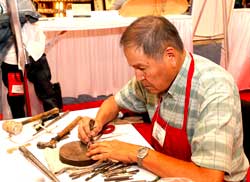 Rave Reviews
The 2017 edition received solid feedback from retailers pleased with the assortment of merchandise and resources available throughout show.
"Urban Expositions makes everything seamless for us to attend the show," explains Chris Lake, SSA, Denver, CO. "We don't have to worry about anything except seeking out new vendors and meeting with the leading manufacturers in the tourist industry. This show is the perfect place to accomplish both!"
"The Las Vegas Souvenir & Resort Gift Show is the number one show for our company to see all the vendors under one roof," said Brad Hill, Evelyn Hill Inc., NY. "The show is early enough to have custom merchandise at the beginning of the season."
"This was my first time attending and I think it's a great show for fellow Millennials to see what's trending," added Brianna Watkins, Rockin' Rudy's, Missoula, MT.
"This is a very important show for us and the only one we go to," said Monica Jones, JP Retail Management, Chandler, AZ. "We always find a number of new lines and product introductions to bring back to our store."
Save the Date
The next edition of the Las Vegas Souvenir & Resort Gift Show will be held September 25-28, 2018 at the Las Vegas Convention Center. For more information call 800-318-2238 or visit www.lvsouvenirshow.com.