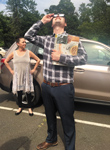 On August 21st, what seemed like everyone in the United States stopped for a moment and craned their necks to stare at the sky. The 2017 solar eclipse was an event that excited people and brought them outside from sitting inside, working in their office, and shopping in stores. The eclipse took place during the NY NOW trade show in New York City. One attendee told Independent Retailer, "Commerce literally stopped." If commerce halted at an event dedicated to retail, what does that mean for independent retailers across the country? A report from Dor Technologies tells us just how drastic the cosmic event was on retail traffic.
The location of your retail store impacted the amount of traffic seen on the day of the eclipse. Stores within the range of the total eclipse saw incredible increases in foot traffic. The morning of the eclipse, stores within totality saw a 247.96 percent increase in traffic, however, there was only 79.44 percent of normal traffic during peak eclipse hours. Post eclipse, traffic jumped back up to a 19.5 percent increase for stores. In addition to the day of the eclipse, the weekend before the eclipse, stores saw a 16.2 percent increase. The data provided by Dor Technologies makes sense; shoppers stocked up on supplies the weekend and morning before, went outside to watch the eclipse, and then stopped in again to make purchases before their drive home.
Foot traffic is a different story for stores that were not within the range of totality. Stores within driving distance saw a 14.7 percent decrease in traffic and stores just outside of driving distance had a 6.5 percent decrease in traffic the day of the eclipse. Shoppers were busy traveling to see the phenomenon rather than visiting stores. Stores that were outside the range of totality had a 27.2 percent increase in traffic the weekend before the eclipse. The solar eclipse impacted stores both near and far.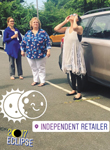 The 2017 solar eclipse was an incredible event that briefly altered commerce. People's shopping patterns completely changed and the increase of people in an area brought in higher traffic than normal for those stores.
What were you doing for the solar eclipse? Did the eclipse affect your store's foot traffic? Let us know and join the conversation by tweeting at us @indretailer and using #indretailer. We'd love to hear your input.
It wasn't just commerce that stopped on August 21st. Even the Independent Retailer staff took a quick break to catch a glimpse of the eclipse.