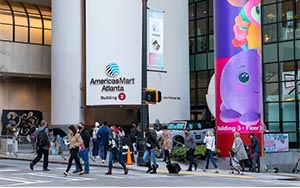 Atlanta Market was the epicenter of the nation's gift and home décor buying with brands and sales agencies reporting record sales at the close of the winter 2022 edition, January 11-18, at AmericasMart Atlanta.
"Buyers meant business in Atlanta this week — they came ready to source with the confidence that Atlanta Market would deliver the must-have product needed for the new year," Bob Maricich, International Market Centers (IMC) CEO, said. "Based on the reports of record-breaking sales and growth in order size, it appears that buyers found what they were looking for — and more!"
Market attendance at the Winter 2022 edition outpaced Winter 2021 by nearly 70 percent, despite wintery weather conditions and lingering pandemic-related issues. As industry recovery continued in Atlanta, all market verticals — Gift, Home and Apparel — recorded growth, with especially strong attendance in Gift. Ultimately, buyers attended from all 50 states and 39 countries.
Buyers Ready to Do Business
Excitement was palpable with buyers ready to place orders and eager to discover new brands, products, and trends. "People were here and ready for business," Yvette Shipley of embroidery, invitation, and customization shop Ibettink in San Antonio, Texas, said. "We were looking to do business with new vendors and lines and Atlanta Market always has the 'new.'"
"We are back from Atlanta Market where the key word of the weekend was 'energized'," designer Andrea Wilson of Wilhouse Designs in Huntsville, Alabama, said. "Market is a not only a chance to source unique pieces for our clients and gain inspiration for upcoming projects, but it also provides a beautiful opportunity to recharge those creative juices and breathe new life into our entire design process."
"Atlanta Market did not disappoint, the energy is back!" Renae Bender, director of Retail at Peppermill Resort Spa Casino in Reno, Nevada, said. "The market is back to 'normal' as far as the energy and being the 'it' place to source what's new and exciting and those rare finds."
Buying Power Generates Record Shows
Across Atlanta Market's 2,000+ permanent showrooms and temporary exhibits — including 200+ that were new or expanded this January — sellers reported healthy orders from enthusiastic buyers sourcing from 8,000+ lines. "The energy at Atlanta Market was electric," Fred Pannek, president of Mud Pie, said. "We saw buyers from the gift, décor and apparel industries flood in from all over the country to see, touch, and feel the new product. Mud Pie achieved record-breaking days in Atlanta, where buyers spent roughly 30 percent more per order than last year."
"This was the busiest January Atlanta Market I have seen in several years," Dan Loughman, Roman president and CEO, said. "Our show sales were the highest in 17 or 18 years with average order sizes significantly larger than in the past and we opened dozens of new accounts. It was great to see Roman customers at market again — for some it was the first time in two years."
Exhibitors took to social media to share their enthusiasm for the market. Brad Rosenkampff, managing partner/ CPO of The Link Companies (representing 79 lines) shared "… Despite obvious health challenges, a few cancellations and then snow — it was a MONSTER show. Record breaking and well beyond expectations. We are extremely excited about this amazing start of '22."
Austin Rockwell, wholesale manager for TEASPRESSA, posted "Just hit record breaking sales at AmericasMart Atlanta today! It was absolutely wild. Did not stop writing orders from 9 a.m. – 6 p.m."
Key Accounts and Buying Groups Multiply Sales
Augmenting strong order writing from independent stores were key accounts and buying groups that returned to the market in force. Key accounts confirmed at Atlanta Market included Aarons, Amazon, Anthropologie, Arhaus Furniture, Ballard Designs, Bassett Furniture, Big Sandy Superstore, Chair King Backyard Store, City Furniture, HSN, QVC, RC Willey, Rue Gilt Groupe, Slumberland Furniture, The Roomplace, Walter E. Smithe Furniture, Weekends Only, Weirs Furniture Village and more. Many of these high-volume buyers were using the market to discover new brands.
First-time temporary exhibitor Arrkeicha Danzie of Good Boy Goodies, who joined the market as part of the Georgia Grown pavilion, reported placing an order with 12 Ace Hardware stores and meeting with a buyer for Buc-ee's 40+ locations. "All my expectations for Atlanta Market were exceeded. Being here and meeting people from so many different states gives me the opportunity to expand my footprint. I got a lot of great feedback and compliments on my product."
The 11 buying groups Atlanta Market hosted further amplified buying. "MAI Retailers' estimated buying power is over $25 million and a quarter of our members are larger stores who came in on Sunday and stayed the whole week," Amanda Bollenbach, MAI executive director and owner of Daisy Day Brands in Walton, Florida, said. "Our stores get together and share what orders have been written, so we were essentially crowdsourcing hot products for more than 50 buyers."
Buyers Engage with Market Programming
Atlanta Market attendees were eager to participate with in-person programming presented over four days of the market. The eight seminars and cooking demonstrations featured standing-room-only crowds with buyers actively engaging in the sessions. Juniper celebrated the launch of JuniperMarket, IMC's new B2B ecommerce marketplace, with a packed Market Kickoff Party. To further bridge IMC's physical and digital markets, JuniperMarket is offering all winter 2022 Atlanta Market retailer and designer attendees a 'Better Together Atlanta Market Special,' with $100 back for spending $1000 on the platform before February 1.
The next Atlanta Market will take place July 12-18, 2022, at AmericasMart Atlanta. For more information, visit AtlantaMarket.com.