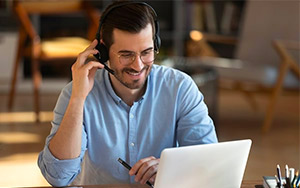 Product returns are a big problem for retailers. In 2020, consumers returned an estimated $428 billion in merchandise, representing more than 10 percent of total retail sales. With ecommerce booming, returns are soaring as customers place more orders on a whim — click, buy — without ever seeing the products they are purchasing until they turn up on their doorstep.1.
The problem does not stop there — the surge in online sales has made customers far more discerning when it comes to return policies. Shoppers who might once simply have held onto their receipt in case they needed to make an exchange are now scrutinizing retailers' return policies before making a purchase. They are also punishing brands that do not live up to their standards: according to Forrester, over a third of consumers have canceled planned purchases due to lackluster return policies.
Strategically Create a Middle Ground with Returns
For retailers, then, return policies are now a two-edged sword. On the one hand, too many product returns could put a big dent in a brand's revenues. On the other, generous return policies are now a competitive differentiator — so merchants whose return policies are too strict could miss out on sales or see fewer returning customers.
The solution is to think more strategically about returns. These policies are the new retail battleground, but achieving victory does not mean reducing returns to zero. Instead, the merchants who come out ahead will be those which do the best job of intelligently integrating returns into their broader retail operations in ways that turn the returns process into a net positive for their brand.
Here are 6 key steps that retailers can follow to create a winning product return strategy:
1. Think Long Term
Customers do not care about your bottom line — they are just looking for a good deal and are increasingly factoring returns into the total cost of every product they buy. If you nickel-and-dime your customers for the cost of a return, they will factor that in when looking at your prices — and in the ecommerce era, price comparisons are only ever a click away. Offer free or discounted return shipping when possible, and streamline the process with print-from-home labels to reduce friction for buyers.
2. Spell it Out
Consumers are checking return policies before making purchases, so if you bury your policy at the bottom of a mile of small print, you are just putting barriers in the way of transactions. Avoid cart abandonment by making your return policy simple and clear, and linking to it from every product listing so that customers know exactly what they are signing up for when they order from your business.
3. Offer Buy Online, Return in Store
With customers now heading back into malls and Main Street retail locations, it is important to connect your operations across all customer touchpoints in order to find new efficiencies. For instance, leveraging your brick-and-mortar footprint with buy-online, return-in-store options can be a great way to make returns more convenient for customers and reduce your return-shipping and restocking expenses.
4. Lean into the Return
Product returns are not a rejection of your brand — they are part of your continuing aftermarket relationship with your customers. Brands should work just as hard to delight customers during the returns process as they do when they are preparing to make a purchase. Remember, customers care about return policies, so a customer review that says a product was not right for them but praising the returns process is still a net win for your brand.
5. Give the Customer Options
Customers might initially seek to return a product for a refund, but it is often possible to steer them into accepting store credit or accepting an exchange instead. If your ecommerce platform provides centralized visibility into marketing, returns, and inventory, it is often possible to surface potential replacement products — perhaps by automatically suggesting alternate sizes and colors — in order to minimize lost revenues and keep customers happy.
6. Put Data Insights to Work
It is important to view product returns holistically — not simply as a necessary evil, but as a critical part of your retail operations. Data and insights from customer interactions can feed back into product development, marketing, inventory, and sales. High rates of return for a given product might point to an inaccurate product listing, a supplier's error, or distribution glitches leading to excessive delays, for instance. Integrate unified data analytics across your operations to be able to turn returns into a source of valuable insights.
Think About Customer Lifetime Value
Each of these steps springs from a single core insight: that the total cost of product returns is not defined solely by refunds, return shipping, and restocking. It also encompasses the cost of acquiring and retaining customers, and the cost of managing the entire ecommerce value chain, including suppliers, inventory, warehousing, marketing, and fulfillment. This is important because customers are not going to stop returning products anytime soon. In fact, as customers return to stores, they are expecting retailers to deliver the same click-to-buy, click-to-return convenience they have gotten used to during the pandemic-driven ecommerce boom. With return policies likely to inform consumers' purchasing behaviors for the foreseeable future, brands cannot afford to simply focus on reducing overall returns.
With an intelligent, integrated, and data-driven approach, it is possible to make lemonade from lemons — by turning merchandise returns into a source of actionable insights and real value, and making even generous return policies a net positive for your brand. If return policies are the new retail battleground, the victors will be the brands that approach the challenge strategically, and use creative and connected approaches to keep customers coming back for more.
Michaella Morrina is the Director of Customer Service as a Service at Cart.com, the first end-to-end ecommerce solutions provider delivering a fully integrated and owned suite of software, services and infrastructure to scale businesses online. She is an omnichannel industry specialist with over twenty years' experience.