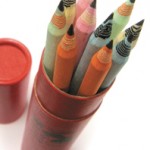 Good Feel USA provides a line of recycled paper pencils for customers who want a great pencil and to do something to help the environment. Good Feel USA states that if every person in the country substituted a Good Feel pencil for just one day a year, 300 tons of trees would be spared. Every year, about 320,000,000 pencils are manufactured in the U.S., which requires about 110,000 tons, or 7,300,000 cubic feet of wood.
Good Feel offers a line called Zebra Colored Paper Pencils, in which the body of the Zebra Pencil is made from two different colored papers, creating a unique design at the tip that lasts until the very end.
Wholesale on less than 10,000 pencils, $.20 per unit. The company also offers Zebra Colored Paper Rainbow Pencils featuring a four colored lead.
The Fantastic Pencil has a matching color eraser and holder to give the unit an even more colorful character. Wholesale on these pencils for less than 10,000 pencils is $.21 per unit. Good Feel's Twin Zebra Pencil includes two colored leads on each side, thus enhancing functionality and eliminating the hassle of using two individual colored pencils. The company offers more styles and different packaging options, different minimum orders, and the option to have pencils preprinted and customized.
For more information:
Good Feel USA
20280 S. Vermont Ave.
Torrance, CA 90502
Tel.: 310-594-3989
Website: www.greenfeel.net