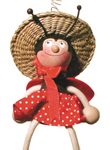 Bouncies are handcrafted figures made of solid wood that bounce. The wood comes from Bohemia, which is now part of the Czech Republic, the clothing on many of the Bouncies comes from Hungary, and the lead free paint comes from Germany. Bouncies have been sold in Europe for the last decade, but Ammon USA is the first firm to broadly introduce them into the U.S. market.
The main appeal of Bouncies is that they are carefully handcrafted and are not plastic. The retail price point is between $16.95 and $18.95, while wholesale is $8 to $8.50 per unit. As for minimum orders, retailers must order at least 20 Bouncies to receive wholesale prices. Most retailers order between 40 and 50.
Ammon USA reports that in order to be really successful selling Bouncies, retailers should have a shelf full of perhaps 60 units for customers to choose from. Ammon USA has over 100 figures in its catalogs, with more coming later this year. There seems to be a strong appeal in the U.S. for historical figures, and Ammon USA will be introducing Einstein and Mozart later this year, followed by William Shakespeare.
Ammon USA notes that Bouncies make a great kiosk product. In fact, over the recent holiday season, it opened a kiosk in Florida and sold a considerable amount of product to enthusiastic buyers.
For more information:
Ammon USA, LLC
1408 State Street
Sarasota, FL 34236
Tel.: 941-330-0877
Website: www.ammon-usa.com