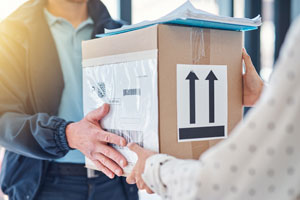 by Ben Freedman
Retailers around the world have felt the impact of the supply chain crisis. While the problem may appear too daunting to solve, there are several opportunities that brands can seize to mitigate loss and build their customer support.
How Did the Supply Chain Fall Out of Its Rhythm?
Ultimately, the pandemic was the first domino to topple, triggering what is known as the "bullwhip effect": a (typically upward) change in supply demand on the retail level which generates grander distortions on the wholesale and manufacturer level.
So, How Exactly Did Our Global Supply Chain Become "Bullwhipped"?
Manufacturers and transporters struggled in the pandemic, as employees were lost to sickness and companies adapted their operating procedures to comply with new health safety guidelines.

The increase in imports for masks, sanitizers, and health-safety gear was offset by a lack of labor to manufacture these goods, resulting in a merchandise drought for import countries.

The pandemic encouraged shoppers to direct their income to the purchase of material goods, rather than on expenses such as travel.

According

to UN trade and development experts UNCTAD, the ecommerce sector contributed a drastic three percent increase (from 16% to 19%) to all retail sales in 2020.

Growing ecommerce (

>$26.7 trillion

) and economic stimulus packages put additional pressure onto ports and transport providers, which were short staffed due to the pandemic.

According

to the UNCTAD, containers at import countries now spend an additional 20 percent time logged into systems, while vacant ships and containers are unable to mobilize from their ports.

The price of manufacturing and shipping has increased to reflect the lack of labor, supply of goods, and transportation space.
How Does This Affect Retail Business?
Many retailers have noticed that merchandise takes longer to arrive, or that the cost of importing has risen exponentially. Perhaps less evident is the effect delayed shipments have on these costs and the overall impact it has on stock levels. Products that retailers are unable to sell to replace sold-out stock become a stockout cost.
The Harvard Business Review surveyed over 600 retail outlets, studying the relationship between stockouts and walkouts. They reported between 21 percent to 43 percent of customers will go to a different retailer to purchase an item unavailable at the former. A stockout will cause brands to not only lose the individual sale, but potentially the customer as well.
How to Mitigate the Effects on Business
Besides keeping costs down, there are a few options worth exploring. Retailers should first consider purchased goods which the customer intends to return as a separate inventory channel. The National Retail Federation (NRF) reported that in 2021, retail returns jumped to 17 percent, a significant leap from 11 percent the year prior. This increase in merchandise return gives businesses an opportunity to minimize their stockout cost, which they can do so by focusing on their return policy and incentivizing returns.
Offer More Convenient Return Options, Such as At-Home Pickup
One popular tactic is to offer free returns, but this can prove burdensome for independent retailers, as they have to foot the ~$12 shipping and restocking bill. However, over 90 percent of customers make repeat purchases based on return policy — in all likelihood the loyalty of the customer will outweigh the incurred return fee.
While the channels to import merchandise are internationally backlogged, the channels of returned goods do not have to be. Retailers should make sure to provide, and market, multiple carrier options. Carrier and in-store drop off returns goods in roughly 27 days, the average time it takes a customer to stop by a UPS Store or Post Office. However, at-home pickup has become the preferred method for customers over the pandemic (being 3-4x more popular). More importantly, at-home pickup enables retailers to restock returned goods in as little as five days.
A Good Return Policy Leads to High Customer Satisfaction
Customers link their likelihood to repeat purchases with a store's return policy. Offering longer return windows—such as ten or more weeks—is shown to increase returns. Customers are also more likely to return to a business with return policies that offer automatic refunds credited to the purchase card. It is paramount that brands hone in on customer support with returns. Sixty-four percent of consumers find the customer experience more important than price, while 33 percent of Americans say they consider switching businesses after dealing with unpleasant customer service. Many brands have found it worth having dedicated returns personnel or a provider to streamline returns and ensure customer satisfaction.
Incentivized returns may not remedy all of your supply chain crises, but they can help to decrease stockout and bolster your customer-retailer bond. While we may not see a total return to "normal," the U.S.'s recent investment of $17 billion to port infrastructure is assumed to regulate the supply chain. Additionally, a record-breaking order for container ships in 2022 will decrease congestion on the water and increase transportation capacity, which should help lower prices to pre-pandemic numbers.
Ben Freedman is CEO of Boomerang, a new solution transforming returns from an inconvenience to an asset for ecommerce brands and is ready to show the industry how it is reimagining end-to-end returns. Ben's role at Boomerang is to lead the strategic direction of the company and bring the same supply chain excellence that Walmart and Jet had to all of Boomerang's customers.