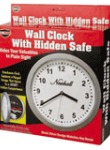 For a 15-year-old company, wholesaler Jacob's Paradise still remembers what it was like "back in the day," and why it's important to deal honestly with customers. "I got into this business because I had worked for other companies, and got tired of the misleading information being given to our customers back then," says Luis Arce, president of Jacob's Paradise. "I'd rather lose a sale than mislead a customer." So with that thought in mind, Arce launched Jacob's Paradise, offering retailers honest prices and a wide range of more than 1,000 products.
"We sell to everyone, including Mom & Pops, flea market vendors and even other wholesale distributors," says Arce. Jacob's Paradise carries the usual items, plus an eclectic mix of items not found everywhere, including a line of "diversion safes," which are safes that look like everyday household items. "We have more than 100 different clocks, pop cans and even flower pots that are used as hidden safes," he says. The clock-safes' wholesale prices start at only $2.95, and go up from there, depending on size. The fake pop cans are similarly priced, and the MSRP on them is $9.95.
Jacob's Paradise has also been successful with its costume jewelry, a Rastafarian-inspired product collection from Jamaica it calls its "Rasta Line." The offerings include Rasta Man necklaces and bracelets in color combinations of the Jamaican national colors of red, black, green and yellow. "The Rasta wholesale pricing starts at $1.50 for the bracelets, and the retail markup is anywhere from 200 to 500 percent," Arce says.
For new customers, the company will include 15 percent worth of free merchandise, along with an initial order. "We'll send along something related to what they're buying," Arce says. With only a minimum $100 order required, it's no wonder customers are happy. "We usually stand out above the rest," Arce says confidently.
For More Information:
Jacob's Paradise, Inc.
2879 Metropolitan Place
Pomona, CA 91767
Tel.: 909-596-7222
Toll Free: 800-650-6051
Website: www.jacobsparadise.com