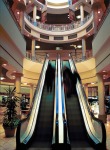 U.S. malls and shopping centers continued their slow, fitful recovery from the recession in the fourth quarter, holding relatively steady in both vacancies and lease rates. The second half of 2010 brought relief to retail landlords by ending the rising vacancies and falling lease rates of recent years. But the slow recovery, despite stronger retail sales, indicates that retailers generally remain hesitant about leasing new space, The Wall Street Journal reports.
The sector appears to be meandering around, Ryan Severino, an economist at real-estate research company Reis Inc., which tallies the vacancy and lease-rate data in the 80 largest U.S. markets, told the Journal. "Without clear signs of a strong economic and labor-market recovery," he said, "we expect this trend to persist over the next couple of quarters until there is more clarity in the direction of the economy."
The full story begins HERE.