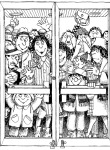 Sales at U.S. retailers rose 3.6 percent last week from a year earlier, as some shoppers returned to stores to take advantage of post-Christmas discounts, dodging a snowstorm that assailed the East Coast, Bloomberg.com reports. Sales for the week ended Jan. 1 rose 0.4 percent from the previous week, according to a chain-store sales index released by New York-based International Council of Shopping Centers and Goldman Sachs Group Inc.  That compared with a 1 percent gain a week earlier.
The stores that did well this season "are those that inspire the consumer to buy something they don't need," Richard Jaffe, an analyst at Stifel Nicolaus & Co. in New York, told Bloomberg. December sales probably rose 3.5 percent or more, the ICSC said.
The full story can be accessed HERE.