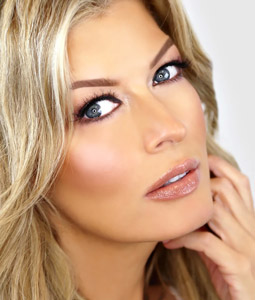 With so many different beauty products out there, brands need to be creative when launching new merchandise. Especially in the world of fast fashion, brands need to think outside the box when catching the attention of a potential customer. That's just what Manna Kadar Cosmetics (www.mannakadarcosmetics.com) did with their "7 Minute Face" beauty system.
Manna Kadar is the self-made, self-funded minority mompreneur behind the fast growing Manna Kadar Cosmetics family of brands that includes Manna Kadar Beauty, Goddess by Manna Kadar, Beauty and the Bump, Haute Dog luxury pet products, Mason Man Skincare, and Manna Kadar Luxe Bath and Body. The creator of the "7 Minute Face," Kadar's three-step, award-winning Beauty Simplified System quickly gained the attention of national outlets such as E1 News, Good Morning America, and The Today Show.
The Value of Listening to Your Customers
"I started in retail 25 years ago. I had many different retail cosmetics stores and had experience with talking to customers on a daily basis, understanding their needs and what they were looking for. Women wanted to look and feel good, but didn't know what to do with all of the makeup options. So I created a 3-step system for my cosmetics line which helps customers to understand in which order to put on the makeup," Manna Kadar said.
By really listening to the needs of her customers, Kadar was able to craft products that delivered real-world beauty solutions, growing her small company into what is today a family of six brands with more than 600 SKU's in 40,000 stores nationwide. Realizing that her motto, "when you look good, you feel good," meant something different to everyone, she designed products to suit multiple concepts of beauty, from minimalist to glam.
It's As Easy As 1,2,3!
Kadar designed the one and only Beauty Simplified System that minimizes the makeup application process to seven minutes or less. The award-winning system separates the application process into three steps: Step 1 – Prime, Step 2 – Polish, and Step 3 – Perfect. On Kadar's website, under the Beauty Simplified System, each product clearly indicates on the packaging which step the item should be used in.
This process easily guides women on how to create their desired look on a daily basis. From face primers and concealers to blushes and lip glosses, Kadar has just about every item a woman needs to complete her daily look.
Giving Back to The Community
Kadar's commitment to women doesn't stop with providing them with the tools to look their best. Leading with her heart, Kadar sits on the boards of Goodwill and USC's Women in Business while giving back 10 percent of the company's annual profits to philanthropic organizations.
"We work with Miracles for Kids all year long, which deals with low-poverty families with critically ill children," Kadar said. "These families are all challenged financially, and we have programs in place to make sure their bills are taken care of to keep the household running and the care of their child."
Many different retail success stories stem from the owner simply listening to the needs of their customers, and growing their business with new products or better services for the public. In this day and age where the competition can be so fierce, especially around the holiday season, what's most important is to take the time and just speak with your customers.