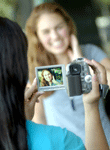 The NRF's recently launched, nationwide advocacy "Retail Means Jobs" campaign was planned to include not only grassroots activism and old fashioned lobbying, but more specifically:
• The launch of www.RetailMensJobs.com, breaking down the retail industry's economic impact by state and congressional district.
• Advertising in print, radio and online markets.
• Social media campaigning through Facebook, Twitter and LinkedIn.
• A viral video campaign to highlight the "Faces of Retail."
That viral video campaign is now organized to be the result of a nationwide video contest entitled, "This is Retail." "We're on a hunt to find the best retail stories in America, from marketing geniuses to customer service superstars to small business owners, who are the fabric of every local community," says NRF president and CEO, Matthew Shay.
How to Participate
Retail employees or business owners must submit a two-minute video sharing their retail story, which can highlight anything from the positive impact it has on shoppers to how an initiative within the business will help generate new jobs to boost the economy. All video submissions will be accepted during the dates of March 5 to March 16.
Viral Video Payouts
A panel of retail executives will narrow the videos down, featuring finalists on www.RetailMeansJobs.com. Winners will then be chosen based on votes. During NRF's Washington Leadership Conference in May, a third place winner of $10,000, second place winner of $15,000, and a first place winner of $25,000 will be announced.
For more information visit www.retailmeansjobs.com/contest.