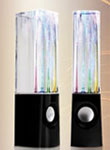 The U.S. domestic toy market is huge, with sales of $22 billion last year. Toys are always great gifts for special occasions and holidays, as well as just for fun.
Water Dancing Speakers
Water Dancing Speakers make a great housewarming or birthday gift, as they are popular with adults and children alike. These innovative speakers offer a way to not only listen to music, but also to watch it dance. Water Dancing speakers from Leading Edge Novelty feature four LED colored lights that illuminate dancing jets of water, based on the music's volume and beat. "Each musical composition projects a unique light and water show that keeps people coming back for more," says Stuart Levitt, owner. "Our patented Water Dancing Speakers are top sellers in toy stores all over the country."
Sold as a set of two, the speakers connect to computers, iPhones, iPods, Tablets, Android, game players and more. They are compatible with any device that has a 3.5mm audio jack connection, and all connection cords are included. The 9-inch speakers are lightweight and portable, and their base is available in chrome as well as black, white, blue, pink, green, purple and red. Retail is $50 and wholesale is $25.
Whirly & Gyro Wheels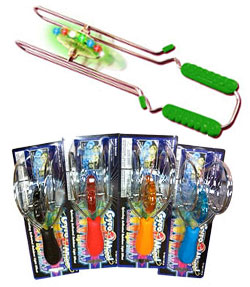 Two more items that Levitt reports are fun gifts that remain popular year after year are Whirly Wheel and Gyro Wheel. The Rainbow Light Effect Gyro Wheel is part of the company's "best toys on the planet" collection.  To play with the light-up gyroscope toy, users place the top on the handheld rail and flick their hand up and down to set the top in motion. The faster it spins the more the lights flash. For extra fun, users can toss and catch the top, or turn it into a table-top gyroscope by spinning it round and throwing it onto a surface to watch it swirl and flash. Users pick it back up as it twirls by touching the rails to the metal tips of the top. Also in the "best toys" collection is the Rainbow Light Effect Whirly Wheel, another toy that rolls on rails. Spinning around the circular tracks on strong, magnetic axles, centrifugal force ignites the light and the clear plastic wheel glows like a rainbow. These toys make great gifts because they are fun and encourage fine motor dexterity and sensory awareness.
Bailey Dog & Fuzzy Kitty Banks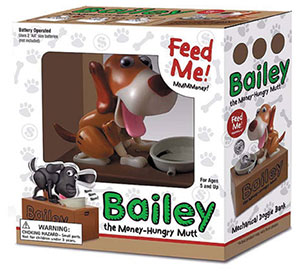 Other popular products from Leading Edge Novelty are the Bailey Dog Bank and Fuzzy Kitty Bank, both of which sold out in minutes on Home Shopping Network's Christmas in July program. Bailey is touted as a money-hungry mutt and gobbles up coins, while clever kitty grabs coins from her hiding place. These unique banks are super fun gifts for kids.
Leading Edge Novelty has over 30 years of manufacturing experience in Asia and the U.S., as well as extensive trend marketing skills. Many products such as the Gyro Wheel are carded, and others arrive in countertop display boxes. The minimum order is 12 pieces.
Leading Edge Novelty
50 Arbor Road
East Hills, NY 11577
Tel.: 516-484-4177
Website: leadingedgenovelty.com