By Lisa Livingston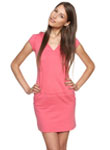 As the masses settle in for cold winter days, retailers are already fastidiously analyzing warm weather fashion forecasts. Although spring is months away, every savvy retailer knows now is the time to plan for the future, break down the hype, and identify the hot styles to achieve continued success. The following is a look at what leading designers expect to be must-have merchandise for the upcoming season.
Tops
Midriff baring crop tops, showing off the hours clocked in the gym, are set to be a season favorite. Paired with high waisted, boxy shorts, this is a save all solution for any woman who would prefer to keep her navel behind the seams. Another trending top is contrasting collared button downs. Manly by nature, these feminine counterparts boast cuffs and collars with complementary materials and textures. Holding to the overall spring theme of skin baring attire, these button downs are frequently seen with the bottom buttons left undone.
Bottoms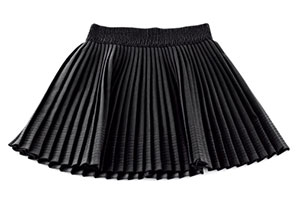 Spring will showcase a new spin on the classic capri style pant, with a wider leg falling below the knee, as well as mid-calf and just above the ankle. Pleats are pleasing this spring, with skirts ranging from mid-thigh to ankle length, and gathered or pleated. Midi skirts with pleats are also a favorite for spring. In fact, no 2014 spring wardrobe will be complete without at least one corrugated skirt, in any length, material, pattern or color. Alternately, skirts paired with long lined tunics, which invoke a classic 1920s flapper feel, will be a hit. Dresses also will have dropped waists, in an effort to achieve the flapper silhouette. All of these trending new garments will be found in a plethora of materials and colors.
Color
Fashion reports have unanimously identified pink, in every shade, as the go-to color for spring. From pale to bold, pinks are predicted to be popular in solid color outfits or paired with prints.
Prints
Spring is full of flowers, and not just your typical patterns. Expect to see updated floral prints, bordering on psychedelic. Another anticipated trend is pop art emblazoned attire, in addition to a return to the 90s with large logo bearing apparel. Expect to find bold prints everywhere.
Materials
Chiffon, lace and satin are favorites for 2014. Fringe also will be popular, accenting a wide range of apparel including sheer tops and bottoms.
Now that we know what to watch for, a great place to find a large selection of clothing for men and women, available at low wholesale pricing, is EFashionWholesale.com. For sunglasses to accessorize every outfit, check out CTSwholesaleSunglasses.com for hundreds of best selling styles.