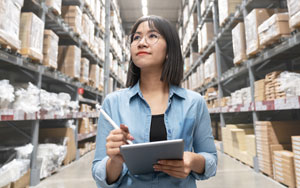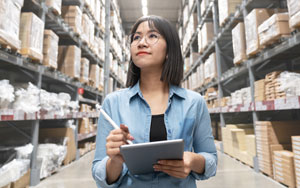 by Shannon Flynn
Robots are among the latest wave of technology coming to small business retailers in 2021. With pushes for innovation and shopping changes from the COVID-19 pandemic, robots in retail are a growing solution. Fortunately, as artificial intelligence (AI) and machine learning (ML) robots become more common, they also become more affordable. Now is the time for small businesses to act.
Integrating robots into the business will help with inventory management, COVID-19 compliance and safety, and creating a more engaging customer experience. Combined, these three benefits help indie retailers stand out in the crowd. Though robots were once a futuristic idea, they are here to stay.
1. Monitor Inventory and Stock
To get the most out of robots, retailers must first start with backend operations. Having an organized and efficient inventory will bring about the smoothest workflow. For instance, new robotics systems can automatically scan and sort inventory as it comes in — these robots will be ideal for warehouses and storage rooms.
Within the store itself, robots can autonomously move around to capture images of the stock. If a product is running low, the robot can alert an employee or manager, who can then promptly restock the item. Robots deployed in these areas help take the stress off employees, who can then focus on other tasks instead of mundane chores. Then, retailers can use the data from stock and inventory management to understand consumer behavior. If an item is selling well, they will know to advertise it more heavily. "Tally" is one prominent example of a shelf-monitoring robot that takes inventory monitoring into its own "hands."
2. Add COVID-19 Precautions
The pandemic is hitting retailers hard. Whether it is trying to keep brick-and-mortar stores thriving or transitioning to ecommerce, this year has shown that small businesses need recovery plans and aid immediately. Robots can help adhere to new COVID-19 changes.
Sanitation and social distancing are critical. Some robots can automatically move around the store, cleaning and sanitizing various spaces. These robots will be especially useful in smaller spaces, where the spread of germs may potentially increase. Additionally, some AI-based robotic systems can monitor the distance between customers. If they are too close, the robot can alert them.
To adapt to the ecommerce side of business, retailers should jump on the curbside pickup trend. Automated robotic systems can process orders for fulfillment, meaning they instantly provide item details and a specific location within the store. Fulfillment then becomes smoother and customers get exactly what they ordered. Other times, the solution can be as simple as a robot following an employee around the store as they gather items for online orders, checking their work, and saving time.
3. Improve Customer Experience
Customer experience is the name of the game. Providing the best customer satisfaction is what will ultimately help any retailer stand out. One of the best ways to do so is through new technology. First, AI and ML have set the stage for consumer personalization based on shopping data. Retailers can use this data to see how to market to each individual and demographic.
Then, AI robots in retail can reach their fullest potential. For instance, "Pepper" can process questions and guide customers to the exact product they are looking for. Other times, a customer may simply scan a QR code to get details or the location of an item in the store. Since QR codes have increased in usage due to the pandemic, they will be ideal for robotic compatibility.
Virtual robots can then help with the digital portion of the business. Chatbots use natural language processing (NLP) to understand and address customer inquiries through a messaging window. These bots are simple and easy for anyone to use. They facilitate connections and positively impact ecommerce now that the pandemic has increased internet usage for retail.
The Future of Retail Robots
Each of these three areas of robotics will improve retail for small businesses in one way or another, whether it is behind the scenes or in the store. They will make a lasting impression on consumers and bring in reliable profits during this difficult time. From here, small businesses are only going to increase their usage of robots. Autonomous vehicle delivery and pickup may not be too far away, for instance. Translation robots are also popping up to help bring in people who speak different languages. The above three fields are getting the ball rolling. Where robots in retail go next will be groundbreaking.