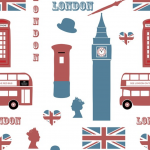 The royal wedding on Saturday had church bells dinging and cash registers ringing. Prince Harry and Meghan Markle not only boosted the British economy by $1.4 billion, but they're making a pretty big statement in retailers around the world as well. Markle has inherited what Moneyish calls the "Kate Effect," which refers to how much of an impact Kate Middleton has on retail sales. Anything she's caught wearing immediately sells out, and Markle seems to be having the same influence.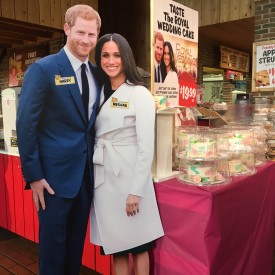 Merchandise inspired by the couple, such as memorabilia, food and drink, newspapers and books, and fashion wear have been flying off shelves. Allison Andrews, an American who has her own Etsy shop, says she's shocked at how well her Royal Wedding inspired laminated paper earrings have been doing, according to Elle. Andrews looks to pop culture for design ideas for her playful earrings, and her intentionally mismatched pair of Meghan and Harry portrait earrings has become her bestselling item. She even had one person buy 20 at a time, and she expects they will make great party favors.
Another interesting royal wedding-themed gift is a commemorative plate designed by a graphic designer and artist in London, Lucy Bryant. Her plates aren't your typical commemorative china to the royal family, according to Elle. Sold on her own Etsy shop, these plates have a pretty purple trim, an inscription bearing the royal wedding date, and side-by-side portraits of Meghan and Ed Sheeran.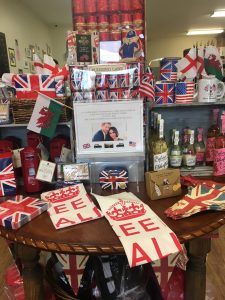 Bryant says she was inspired to make these silly plates by a mug she bought when William and Kate got married. The mug had a picture of Harry on it by mistake, and so she wanted to do the same with her plates, even if not by accident. She gets messages from people all the time, asking if she knows the picture on the plate isn't really Harry, and she just plays along with it since people seem delighted to think it's really a mistake.
And of course, British souvenir shops are doing very well ever since Harry and Meghan announced their engagement last year. Mike Drummond, who works at the Red Bus souvenir shop next to the iconic London Eye, said many of the memorabilia with the royal couple's face on it are selling fast. The most popular items are the mugs, and a Union Jack with Meghan and Harry's faces in the middle is also selling very well, according to NPR.
Businesses everywhere, big and small, are working hard to benefit from the royal wedding. So many consumers are obsessed with royal anything and are willing to spend so that their royal wedding party will be the best, and can we blame them? We're all guilty of sneaking a peak of at least some of the royal wedding on Saturday, so why not celebrate with some cute memorabilia to remember that special day?