by Bryan Kirschner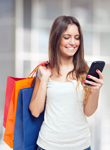 Smartphones and apps continue to grow in importance for both consumers and the companies dependent on reaching them. To find out just how much mobile device engagement and influence on shopping behavior has increased year over year, the Apigee Institute recently surveyed 1,000 adult smartphone owners in the United States and the United Kingdom.
The Apigee Institute's 2014 Digital Impact Survey, developed in conjunction with Stanford University's Mobile Innovation Group, found that, when compared with companies like Amazon, Facebook and Google—businesses that were founded to do business in the Internet age—and banks, large retailers are far behind the curve. Strikingly, despite the fact that people love shopping on their phones (more than 8 in 10 U.S. smartphone owners have a favorable opinion), only 27% have downloaded and been satisfied by apps from retailers. In contrast, nearly twice as many (45%) have downloaded and been satisfied by apps from banks.
This is a problem. Given that smartphone owners across the U.S. and U.K. estimate that they will spend a combined $20.4 billion via mobile devices—with more than one-third of that figure through apps alone—retailers simply cannot afford to lag behind consumers' expectations. Retailers that do not catch up to the changing expectations of their customers will be left in the dust of those that do.
Smartphone use is pervasive, regardless of time, place, or social milieu. Smartphone owners wake up and go to sleep with their phones: 90 percent say they've used their phones in bed. More than half of all smartphone owners report using their phones either every time they are in bed or almost that frequently. Eighty-one percent acknowledge using their phones in the bathroom. Even one in four worshipers confess to using their smartphones in church.
As affinity for smartphones and apps increases, their usefulness is winning over skeptics. The percentage of U.S. smartphone owners who worry that their phones cause them to have less control over their lives has halved since last year's survey, from 13 percent to 7 percent. A staggering 96 percent of U.S. smartphone owners report that their mobile devices significantly help them stay in touch with friends and family; 77 percent report that mobile devices significantly help them share ideas and creations with others, and 56 percent say that mobile devices significantly improve their ability to do their jobs.
This acceleration is critically important to retailers, who compete to win attention and sales from smartphone owners every day. Sixty-three percent of U.S. smartphone owners report using apps to shop at least once a month, and nearly a quarter of smartphone owners anticipate an increase in how much they spend via apps in 2015.
The results of this year's survey suggest potentially dire consequences for stores that do not become competitive as app providers.
• 74% of U.S. smartphone owners say they would be more likely to shop at a store offering key functions and services via an app.
• Nearly 60% of U.S. smartphone owners report that having a mobile phone or tablet has changed how they shop.
• 90% of U.S. smartphone owners expect department stores to provide key services via apps within the next two years.
• 17% of U.S. and U.K. smartphone owners say they've started shopping at a new store because of its app.
The upshot: mobile app mastery is a way for some retailers to take market share from those who fail to adapt.
Overall, retailers are lagging behind other consumer-centric industries when it comes to delivering apps that consumers use and enjoy. To compete and win in this new market context, every retailer needs to master a great mobile user experience, deliver apps as planned, and to keep pace with today's leaders, embrace the Internet of Things (IoT) and adaptive apps.
If you are retailer without a compelling mobile app, you are leaving cash on the table. If you are a retailer that met the bar for customer expectations in 2013, note that the bar has risen to encompass use of the IoT and adaptive apps. The leaders in the sector are already seizing the opportunity. "Wait and see" is no longer an option. The opportunities, however, are expansive.