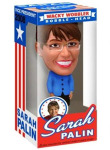 Wild Bill's Nostalgia Store in Middletown, CT is offering a new Sarah Palin Bobble Head Doll, made for the company by Funko. The doll is seven inches tall, and Funko terms them, "Wacky Wobblers," because of the way the head bounces around. Funko has featured George Bush and Bill Clinton dolls, among other presidents, in the bobble head format. The Sarah Palin doll is an exclusive for Wild Bill's, and given the political climate in the country today, it looks like a sure winner for independent retailers. The unit wholesales for $6.50 and the suggested retail is $12.99.
Wild Bill's also has two, "Sarah for President," posters, which are similar to Wild Bill's show print posters. They are 14″ by 22″, and one of the posters features a picture of Ronald Reagan and Sarah Palin. The poster's headline is, "It Is Time for a Real President Again. Sarah Palin 2012." The second poster has, "Sarah," at the top. It has a picture of Palin with a flag and the White House. The posters wholesale for $3, and suggested retail is $5 to $10 each. Wild Bill's offers an exciting line of over 600 nostalgia show print posters for sale.
Wild Bill's is also featuring Sarah for President buttons in two different sizes. The first is 2 1/4 inches, and the other is the traditional 3 1/2 inches. The buttons say, "It is Time for a Real President Again." Wholesale on 2 1/4 inch buttons is 55 cents, and suggested retail is $2; the wholesale on 3 1/2 inch buttons is $1, with a suggested retail of $2 to $3. Wild Bill's has a minimum wholesale order of $100. For retailers purchasing Sarah Palin merchandise, they can mix a number of buttons, posters and dolls, as long as the total order is $100 or more.
For more information:
Wild Bill's Nostalgia Store
1003 Newfield St. (Rt. 3)
Middletown, CT 06457
Tel: 860-635-1226
Website: www.wildbillsonline.com