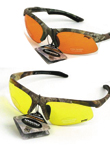 Screamin Dealz' success in dealing discounts on quality products has led the company to an involvement in hundreds of items from a variety of merchandise categories, which continue to grow each year. While many suppliers and retailers search the wholesale and closeout industry for specials, new customer breaks and other one-time deals, Brent Bartholio, wholesale manager of Screamin Dealz, promises, "Our deals are so good, we do not have a need to offer specials." With quality products at rock bottom prices, and distributor deals, volume discounts and liquidation pallets being the standard, Screamin Dealz finds a partnership with all kinds of customers, including closeout suppliers, boutiques, c-stores, flea markets and other wholesalers. "Our product is found in over 8,000 stores throughout the U.S. and into Canada," adds Bartholio.
Among the product deals is an assorted sunglass pack of 144 pairs, wholesaling for $90 or $0.62 apiece. Offered with a counter display that holds 12 pairs, these assorted frames, colors and styles make for a great impulse buy. "Our sunglasses are offered with a lifetime guarantee. All are UV 400 protected, and come with polycarbonate lenses," notes Bartholio. Like many sunglass wholesalers, Screamin Dealz claims to stay up on the latest fashions, many times getting ahead of trends and being a trendsetter in the industry. Bartholio pointed out some up and coming trends. "Wider lenses will continue to grow in popularity," he notes, "and as always, those streamline sports sunglasses will sell well." It was no surprise that like many other sunglass wholesalers forecasted, Screamin Dealz found that Aviator styles were still a hot trend for the 2012 season.
Other great buys include disposable and refillable butane lighters that start at $0.15 wholesale, men's and women's fedora hats for $2 wholesale, and supplements wholesaling for $0.50 and up. "We sell items at 40 to 50 percent their retail value," Bartholio explains. "For instance, an item that costs $5 retail, we sell for $2.25 wholesale." With no minimum order, retailers can mix and match from Screamin Dealz merchandise categories and stay within a reasonable budget. "We are a leading stop for many dollar store retailers looking for great deals and a variety of items," adds Bartholio.
While prices and products are Screamin Dealz' specialties, the company has also taken the time to focus on POP displays to help retailers market their purchased items in their stores. Similar to the company's counter display sunglass offer, buyers can purchase large case packs of lighters and novelty items, and display a quantity of nine or 50 at a time with an associated POP display. For other items offered such as apparel and hats, a display may not be part of the package, but Bartholio is certain the product won't need much marketing. "Our women's fedora hats and cadet hats are in style," he says. "Our straw hats and urban hats have also been a big hit, along with jewelry."
A look at Screamin Dealz' newest products indicates that the company continues to expand on its variety, testing the market to find the newest trends, and then offering them at the lowest prices. "Our parent company is a trend setting company, and Screamin Dealz is no different," says Bartholio. Besides the belts, women's scarves and biker wallets that can be found in the "What's New" section of Screamin Dealz' website, Bartholio tells buyers to keep their eye out for mobile electronics and accessories. This merchandise category will soon appear on the company website, he adds.
For more information:
Screamin Dealz
215 N 1800 W
Lindon, UT 84042
Tel.: 720-325-8533
Website: http://screamindealz.com