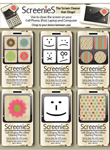 The Gerson Companies is offering Screenies, self-clinging cleaning patches for iPods, cell phones, laptops and other portable electronics, used by today's on-the-go generation. The product is a microfiber cloth that has great clinging capabilities, and clings to the back of a laptop or cell phone. When you need to clean your cell phone, simply peel off the Screenie, which leaves no mark on the phone, clean it and then replace on the back of the phone. The Screenie eliminates a bottle of cleaner and a rag. You have your cleaner attached to your cell phone at all times.
While one would suspect that a simple cloth would not stick to a metallic or plastic surface on a phone or laptop, it does. The Screenie will not come off on its own easily, but will peel off easily. The Screenie comes in two different sizes. For the iPhone or cell phone and smaller electronic devices. The Gerson Company sells a package of four Screenies, about 3/4 inch by 3/4 inch. For the laptop, it sells a slightly larger Screenie, which is two inches by two inches. When the Screenie needs to be cleaned, it is easily washed in warm water and soap, and can be cleaned and used multiple times. The company offers Screenies in many different designs.
There are generic designs in different colors, and more complex designs.
The wholesale price on the small Screenie is $1.50 per unit (four Screenies in one package), with a suggested retail of $2.99. In the larger laptop package, you get one Screenie. The minimum order is $50. Screenies are sold in a counter unit, where the retailer gets an assortment of these cleaners. The counter display holds 48 pieces: 24 of assorted smaller Screenies and 24 larger units. The display unit wholesales for $72, and when the display runs out, Gerson suggests to simply order an entire new display.
For more information:
The Gerson Companies
1450 South Lone Elm Road
Olathe, KS 66061
Toll Free: 800-683-3484
Tel.: 913-262-7400
Website: www.gersoncompany.com