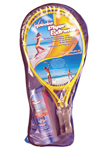 Waboba Inc. would like to introduce you to the Waboba ball. Waboba, by the way, stands for Water Bouncing Ball. Basically, the Waboba is a ball that the user throws, and it skips across the water. The company also developed a game for Waboba, based on the old Keep Away game between teams, and is creating a Waboba Federation, based on the Beer Pong concept, which meets in Las Vegas every year for a tournament.
The easiest way for a user to have fun with a Waboba is to simply throw the ball so that it bounces on the water between two people. Try different angles, catching it with one hand, bouncing it on waves, etc. When practicing, the user will soon find out that throwing and catching is fun teamwork, which requires some skill. Three styles of balls are available, including the Waboba Pro, which is marketed toward sports retail and surf stores. The Pro is made for the open water. The Waboba Extreme is the original product, and is the most lively ball on the water. It bounces quite high and skips fast and far. The third product is the Waboba Blast, made for swimming pool play, and it can scoot across pool decks without getting frayed.
The wholesale price on the Waboba Pro is $5, and suggested retail is $9.99; wholesale on the Blast and Extreme is $4.50, and retail is $8.99 to $9.99.The company sells the product at retail with an in-store video counter tray that sells the product with a seven inch high resolution digital monitor, which shows the three products in use. The minimum order is one master pack of balls, which range in price at around $250. Contained in the master pack of the Pro and Extreme are 72 balls, which all come in counter trays. There are two counter trays of 24 for the Blast.
For more information:
Waboba Inc.
PO Box 542137
Greenacres, FL 33454-2137
Tel.: 888-501-2703
Website: www.waboba.com