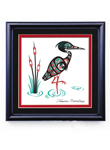 For retailers on or near the West Coast of the US, the first show of the year is definitely where you need to be! Running from January 6 – 9, 2017 at the Washington State Convention Center, the Seattle Gift Show kicks off the year with a splash of color and excitement, presenting an expanded selection of Native American tribal handcrafted goods from the tribes of the Coastal Pacific Northwest. Jennifer Welborn, Marketing Manager, for Urban Expositions' Seattle Gift Show, tells Independent Retailer, "As a growing sector within the show's popular "Northwest Directions" souvenir/resort category, the newest offerings range from art prints, jewelry, apparel, basketry, carvings and more."
The fascinating product selection at the Seattle Show is not to be beat. "We know retailers are always looking for fresh new designs – especially those with meaning behind them," adds Lisa Glosson, vice president, Gift & Souvenir, Urban Expositions. "We've assembled a wonderful collection of beautiful crafts from Northwest tribe members and other talented artists, which are ideal for our retailers' local customers as well as tourists looking for those special keepsakes to bring home from their trips."
Being the very first show of the year allows the Seattle Gift Show to present the freshest styles and the newest designs. Buyers can explore thousands of lines and product sectors, including the Makers' Market of beautiful handcrafted home goods, textiles, apparel and jewelry, Made In America spotlighted products, Gift and Home collectibles, seasonal merchandise and a huge collection of Personal Style products featuring jewelry, handbags, scarves, belts, boutique apparel, and bath and body products.
Of special note to retailers, the Seattle Gift show offers a wide selection of educational buyer seminars, with trendy and informational topics covering a variety of retailer concerns. With on-target business-building topics including: 'Retail is Entertainment: Enhancing The Customer Shopping Experience AND Your Bottom Line,' presented by Karl Busche, and 'How To Make Your Packaging Work For You Long After The Sale,' offered by Mike Walker of American Retail Supply, the seminars and tours are geared specifically to help retailers better manage their store.
Buyers are encouraged to pre-register for the show. ExpressPass™ entries are accepted at both the Seattle Gift Show and the Seattle Mart: simply bring your ExpressPass™ to the show, scan it with the onsite readers and quickly print out your badge when you arrive.
As an additional bonus for retail buyers, the Seattle Gift Show is co-located with the permanent exhibitors from the Seattle Mart during Seattle Market Week. Buyer registrations will be cross honored, so just one registration will allow you to explore hundreds of trendy artisanal products including the Shotridge Collection, Alaska Eagle Arts, Raven's Corner, and Araquin Designs.
For added buyer convenience, Urban Expositions will offer complimentary shuttle bus service to and from both locations to simplify the process and accommodate every buyer's schedule.
For a sneak-peek at the Seattle Gift Show's newest offerings, buyers can visit the New Exhibitor Listing on the show website: www.seattlegiftshow.com/338/seattle-gift-show-details-for-attendees.htm
For retailers interested in finding out more show information, or for details on travel arrangements and hotels, please visit www.SeattlegiftShow.com or call 678-370-0338.
Upcoming Dates:
January 6 – 9th 2017