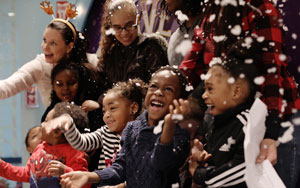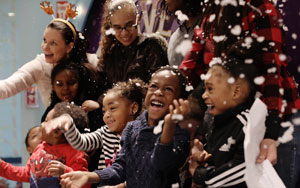 CS Hudson, a leader in experiential pop-ups, shop-in-shops, and marketing activations, recently held their second installment of its holiday Pop-Ups for Good Event: Live. Love. Laugh on December 17th, 2019. Filled with laughter, cheer, and tons of toys, over 100 homeless children in the surrounding areas of Riverhead, NY came to this Winter Wonderland themed event to share the company's vision and hope for the future.
Pop-Ups for Good is an innovative program that provides a platform to leverage the company's retail expertise, strategic partnerships and national reach to help support socially-charged initiatives. Along with the support of its vendors and partners, CS Hudson creates short-term retail pop-ups to benefit various philanthropic causes.
Bringing Christmas to Homeless Children
Over one hundred children ranging from ages two to eighteen from HELP Suffolk, a homeless housing facility, were bussed in to the event location at the Tanger Outlets in Riverhead, NY, to experience:
A once-in-a-lifetime opportunity to grab their favorite toys. For many, this was their first time picking out a brand new toy.
A variety of holiday-themed, fun-filled interactive activities such as gaming, hands-on sensory tables, selfie stations and more.
"Pop-Ups for Good is closing out its first full year of making a difference and we couldn't be more grateful," CS Hudson co-founder and co-CEO, Joseph Scaretta, said. "The program allows us to use contemporary retail technology and practices to drive customer experience and awareness for each nonprofit we select. Pop-up shops have gained quite a bit of momentum this year, and we're thrilled to be able to use this concept to raise awareness for nonprofits and give back to the community in an impactful way."
Spreading Cheer Through Pop-Up Events
This is the second year that CS Hudson has created a whimsical toy shop experience, giving children a chance to pick out their own toy and enjoy a fun-filled day of holiday-themed activities. Other key players for this event include Medallion Retail, FASTSIGNS of Upper Saddle River, Fire Up Marketing, Tanger Outlets, Monster XP and IRG Management. Next year, in addition to spreading holiday cheer, CS Hudson plans to host up to four additional pop-ups, the first of which includes Getting Heroes Hired — a veteran-focused pop-up experience slated for February.
According to Poverty USA, one in every six children are living in poverty in the United States. That's nearly 12 million kids who are enduring food insecurity and may not see a gift with their name under the Christmas tree. This is a challenge that many companies take on in hopes to make a difference, and CS Hudson goes beyond writing a charitable check. They utilize their expertise to develop a fully-fleshed out experience for children to have a memorable holiday.