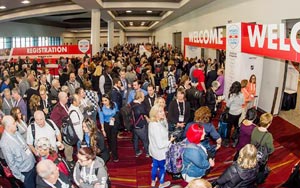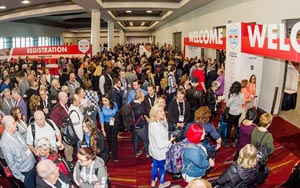 If your store sells sports-related licensed products or tailgating supplies, the Sports Licensing & Tailgate Show is where you should be to shop more than 380 exhibitors with products licensed by colleges and professional sports teams. Held from January 16th – 18th in Las Vegas, the Sports Licensing & Tailgate Show is the premier event for brand owners, licensees and retailers.
All Retailers Welcome
The Sports Licensing & Tailgate Show attracts all types of retailers including specialty shops, fan shops, department stores, sporting goods stores, online retailers, as well as collectible and gift stores. Licensors returning include IMG Collegiate Licensing, Learfield Licensing Partners, National Hockey League and NBA Properties Inc., just to name a few.
The 2019 show saw continued growth in the collegiate licensing segment. In addition to hundreds of college bookstore buyers including Follett and Barnes & Noble College Booksellers, there were more than 150 college licensing departments in attendance. The event had a total attendance of over 4,700 guests, making it a must-see once again for the upcoming January show in 2020.
Networking Opportunities
All of the major sports leagues and collegiate teams are represented at the show. This is your chance to see what your customers are going to want next season! There will be numerous networking events, allowing you to see what your peers are doing and you'll be able to learn new ideas that you can take home and implement in your own store.
Seminars are another great way to learn more about the industry and introduce yourself to professionals. The 2020 full seminar schedule will shortly be available on the show's website, and just for a taste of what to expect, 2019 brought in some prominent speakers including former All-Pro NFL linebacker Carl Banks, Jon Bibo, the Chief Executive Officer at the Independent College Bookstore Association, and Paula Haerr, Vice President of Programs & Services at the Independent College Bookstore Association.
Connect Portal
Looking for an easy way to schedule appointments with exhibitors? No problem. The days of the event will already be busy enough for you as it is, so the Sports Licensing & Tailgate Show has made it easier for attendees by creating a Connect Portal where users can email and schedule appointments with exhibitors, add sessions to their personal show calendar, and sync their selections with the show's easily downloadable mobile app.
If you're looking for more info on the portal, there is a short video tutorial on the show's website so you can see exactly how Connect works. Retailers interested in being front and center at the only event in the U.S. with this much sports merchandise can register on the show's website at www.sportstailgateshow.com.
Sports Licensing & Tailgate Show
January 16-18, 2020
Mandalay Bay Convention Center
Las Vegas, NV
www.sportstailgateshow.com