From the minute customers walk through your doors to the moment they leave, they are utilizing their phones. Whether the customer is on a phone call, scrolling through or posting on social media, or taking pictures with their friends, the phones are by their side the entire time. In fact, two-thirds of shoppers check their phones in-store for product information.
According to a 2019 RetailMeNot study, internet users looking for more information in-store often skip approaching retail associates and go directly to their smartphones. Sixty-nine percent of respondents said they would look for reviews on their phone first, and 53% would search for deals before speaking with an employee.
What Is The Digital Reflex?
The influence that the internet has on consumers is tremendous, which is what the world's largest and fastest growing APM vendor, AppDynamics, is calling "The Digital Reflex." The era of "The Digital Reflex" refers to a seismic shift in the way consumers interact and engage with digital services and applications.
The growing reliance that customers have with their smartphones is impacting their expectations of the brands they engage with. AppDynamics recently released a report, examining consumers and their reliance on applications and digital services. The global study identified how these digital dependencies impact consumers' expectations of the businesses and brands with whom they engage, their increasing intolerance of performance problems, and the urgency with which brands must take action in order to remain relevant and competitive in a world where application loyalty is the new brand loyalty.
App Loyalty vs. Brand Loyalty
"The latest App Attention Index Report by AppDynamics shows that the number of consumers claiming that they are now more loyal to an app than a brand has doubled over the last two years, 46% in 2019 compared with 23% in 2017," Angie Mistretta, CMO, AppDynamics, said. "This complements other industry research, pointing to the fact that consumers today are more digitally savvy than ever before. Consider that Gen Z, the first generation of true digital natives, is set to become the largest generation of consumers within the next year — accounting for $29 to $143 billion in direct spending."
Consumers are utilizing digital services more than they even realize. It has evolved to become an unconscious extension of human behavior – a 'Digital Reflex.' The report stated that 71 percent of respondents admitted digital services are so intrinsic to their daily lives that they don't realize how much they now rely on them. As these digital reflexes become habitual, consumers are becoming increasingly dependent on devices and digital services, relying on them to complete many of their daily tasks.
Poor Digital Performance Can Impact How Customers View Your Brand
"Retailers have much to gain and far more to lose in terms of customer loyalty if their apps fall short of consumer expectations. In the past year alone, 84 percent of people have experienced problems with digital services, which has resulted in 49 percent of consumers switching to competitors due to sub-par experiences," Mistretta said.
The more that consumers use their smartphones, the higher expectations they will have for online performance. The report also found that more than half of consumers (54%) now place a higher value on their digital interactions with brands over the physical ones. Because of this, retail has reached a point where buying decisions are now based on the quality and personalization of the digital services they deliver.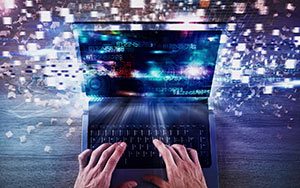 "Today, consumers' first impressions of a brand are made online — typically via an app or mobile website, and their buying decisions are influenced by how well the app or website performs. With that, it's imperative that brands focus their efforts on creating optimized and personalized digital-first customer experiences," Mistretta said.
How Retailers Can Survive The Era Of The Digital Reflex
AppDynamics offers retailers some ways to exceed increasing digital customer experience expectations:
Focus on application performance — implementing a robust application performance management solution enables organizations to safeguard the performance of mission critical applications and user experience in production.
Align performance to business outcomes — measuring and analyzing the performance of applications and correlating this to business performance ensures that digital services are always aligned to business objectives, such as customer experience and revenue.
Make decisions and take action based on factual insight — delivering exemplary digital experiences requires real-time monitoring of the full technology stack, from the customer's device to the back-end application to the underlying network. However, it's critical that enterprises choose solutions that take an AIOps approach, turning the monitoring of data into meaningful insights quickly or automatically using machine learning and AI.