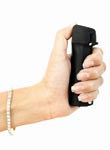 When a police department receives an emergency call, the average response time is between nine and 13 minutes, according to the New York City Mayor's management report. In more rural or suburban areas, this time can be even longer. Robert Lewis learned, after 35 years in law enforcement, that this amount of time can mean life or death for victims. Now, as owner of Steve's Police and Security Supply LLC, he supplies civilians and retailers with self-defense products including pepper sprays and stun guns, plus other miscellaneous defense items. "Our best sellers right now are the stun guns," Lewis says. "Pepper sprays are right behind them." The company stocks a variety of brands, but Kimber Pepper Blasters by Kimber Firearms are the most sought after.
The key to selling pepper sprays is to match the user with a product they will actually carry. "Fathers often come looking for the most sophisticated spray or Taser on the market, but their daughters want the zebra printed or pink pepper spray because of how it looks," Lewis explains. "The reality is that even if you get the best pepper spray in the world, it's useless unless you carry it with you." By pointing this out to end consumers, retailers can improve customer satisfaction and boost sales. Steve's Police and Security Supply carries a range of pepper sprays in pink, blue and black containers for this reason. Gel pepper sprays, a new formula so potent that police officers aren't allowed to carry them, also are available in pink or black containers. "That spray has an absolutely terrible burn, even if a criminal has a tolerance to cayenne, the effective ingredient," Lewis reveals. The company carries gel sprays from Mace and Sabre. Most pepper spray models can be attached to a key chain so that they are always on hand, and a few models come packaged in a carrying case similar to that used for lipstick. Pepper sprays retail for $6 to $59, and retailers can contact Lewis directly for wholesale pricing.
Steve's Police and Security Supply also carries several different models of Tasers and stun guns, each of which can require sellers to follow specific laws depending on the state where they conduct business. These same laws affect Steve's Police and Supply's shipping policy as well. Information about these laws is available on the company's website or by contacting your state government. Steve's Police and Security Supply accepts orders online and by phone. For orders of mixed items, Lewis will combine shipping to keep freight costs to a minimum.
For more information:
Steve's Police and Security Supply LLC
1397 Sunnyside Street
Highlands Ranch, CO 80126
Tel.: 303-642-6450