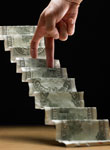 February retail sales exceeded expectations, according to figures released by the U.S. Department of Commerce, despite headwinds caused by extreme weather in the Northeast and a continued adjustment to higher payroll taxes. Monthly retail sales figures for February totaled $421.4 billion, an increase of 1.1 percent over the previous month, and 4.6 percent over February 2012. February retail sales excluding automobiles, gas stations and restaurants increased 0.7 percent seasonally adjusted from January and increased 0.5 percent unadjusted year-over-year.
"While gasoline prices helped lift the overall sales in February, core retail sales were also strong and demonstrate the resilience of consumers in a slowly recovering economy," said Retail Industry Leaders Association (RILA) president Sandy Kennedy. "Recognizing the continued challenges consumers face, retailers remain nimble, adjusting marketing, promotions and product assortments to earn their share of consumer spending."
"Retail continues to show its importance to the economy," National Retail Federation (NRF) president and CEO Matthew Shay noted. "That said, our consumer research consistently shows a cautious shopper that is making tough spending decisions based upon economic uncertainties, lower paychecks and higher prices for things such as gas. This is particularly true among those making $50,000 or less a year."
"Consumers, once again, exceeded economists' expectations and estimates in February," NRF chief economist Jack Kleinhenz added. "It may be too early to measure the impact of the payroll tax hike and higher gasoline prices on consumer spending. However, this portends a good, but not great, first quarter for retailers as consumers continue to breathe life into the economy."
The February retail sales gains come as retailers draw closer to action on federal legislation to level the playing field between Main Street retailers and their online only competitors.