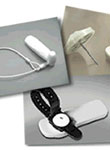 Only one in 48 people who shoplift are caught, according to the National Retail Federation. And a report by AOL's Daily Finance shows more than half of 200 retail survey respondents said so-called organized shoplifting by two or more people has increased sharply, while 41 percent said shoplifting by individuals was also up. That translates into a loss of $13 billion in merchandise, according to the National Association for Shoplifting Prevention. Unfortunately, many independent retailers, who own between one and five stores, are willing to take the risk, rather than spend $3,500 plus on new retail security equipment. But with the help of Sensortags.com anti theft security solutions are made affordable to mom and pop shops that need them.
Sensortags.com deals primarily in used and refurbished security equipment, including the popular Sensormatic® and Checkpoint® security towers and tags. Other equipment includes ink tags, and anti theft barcode sticker labels. "We repaint and retune equipment for smaller doorways, and sell to mom and pop shops that can't afford to buy new," explains Mary Fouts, technical director. "For instance, we may refurbish a Checkpoint® two pillar system for a single doorway, with an original cost of $3,500, and sell it for as low as $999 with a complementary package of tags and removers." Sensortags.com does offer some off brand, new equipment as well for as low as $1,500 with a year warranty.
Warranties, in fact, are another way Sensortags.com helps its customers save in security costs. "Even our used equipment has a six month part warranty, along with a five year technical support package," says Fouts. "Most systems require a service call once or twice a year. These calls can be $250 an hour with a three hour minimum. We make it more affordable." The company's equipment can be installed by store owners, as well as tuned and tweaked with access to an electronic board. "We provide tech support by phone for five years. And if the store owner has two left thumbs, all they have to do is pull the electronic board and send it to us for retuning. It is much more cost effective than an on-site service call," Fouts adds.
Package setups that include tower systems, tags, removers and more usually receive a discount rate. Retailers shipping into Canada will receive a $75 credit towards shipping. Anyone can request a free quote. Fouts looks forward to helping smaller retailers left without a security solution because of financial means. "Our newsletter is also a great resource for those retailers working with our systems. We provide tips and tricks to tower placement, shoplifting signs and more," she says. With the right kind of security system, indies don't have to be part of the average shoplifting statistic.