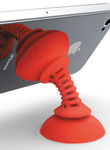 Smartphones are no longer a one trick pony. With the steady stream of new apps and improved connectivity, mobile devices have become the ultimate personal resource. The problem is, even the most convenient tools in the world can be inconvenient to use if they demand at least one of the user's hands. While pockets, handbags and cases have countered the conundrum of how to best carry a smartphone, as phones have more and more uses the frequently asked question is no longer how to tote a phone, but rather how to keep it in place. Product designer, James Burry, decided to tackle this question hands-on, and launched his business, called Striker, in 2005. Now his answer comes to retailers and shoppers as the Simple Sucker.
"People use smartphones for everything from looking at recipes while they cook, to listening to music when they work out," he states. "The Simple Sucker solves the problem of how to hold smartphones during such activities, and it is inexpensive."  The Simple Sucker temporarily mounts cell phones or music players to desks, treadmills, windshields, counter tops or any smooth surface, quickly and easily. The product is bent, with phone attached, into a comfortable viewing position so people can play videos, podcasts or music. "Our goal is to provide the most innovative designs possible to make tasks easier and more convenient," Burry remarks.
The Simple Sucker is a flexible suction cup mount, made from a solid piece of silicone. Measuring 1.5 inches in diameter and two inches tall, it's small enough to be portable, and makes an easy impulse buy when placed on store countertops near checkout. Videos are available online and prove useful if a retailer wishes to demonstrate the product in-store. The Simple Sucker comes in a master pack of 72 pieces, divided into boxes of 12. For retailers, the wholesale cost is $3.49 apiece, with the manufacturer's suggested retail set at $6.99. The minimum order is $100, which can consist of any combination of Striker products, though Simple Suckers must be ordered by the dozen.
For more information:
Striker
200 Overhill Drive, Suite C
Mooresville, NC 28117
Tel.: 704-658-9332
Website: www.striker1.com