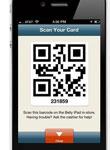 Customer loyalty campaigns are redefining how local businesses communicate with shoppers. Many independent retailers are replacing traditional rewards cards with mobile applications that provide a variety of features and are available at varying price points. Here's a look at three smartphone apps that can help take your customer loyalty to the next level.
1. Belly.
This app costs retailers between $50 and $100 per month, after a free one month trial, depending on access to features such as customer segmentation, data analytics and promotional tools. When customers sign up with Belly, they gain access to all the loyalty plans on the company's digital network, cutting down on the need to carry multiple punch cards. Participating stores are equipped with iPads that patrons use to sign in and tally points. Customers check in by opening the free Belly app on their smartphones, pulling up their unique QR code and scanning it on the company's iPad. Belly also offers low-tech options for the analog set in the forms of wallet cards or key-chain fobs that can be handed to merchants. More than 3,500 locations have adopted the Android and iOS-based loyalty program since its August 2011 launch, rewarding customers with customized perks.
This mobile payment platform does not charge merchants or users to process sales, but 98 percent of LevelUp's customers also use the service to manage fee-based loyalty campaigns. The program includes a free consumer app (Android and iOS) that users link to their credit or debit card and a merchant app that businesses run either on their own mobile device or on a free, LevelUp-provided Android phone. The consumer app provides a unique QR code on users' screens, which customers use to pay, while the merchant app scans the codes, processes payments and monitors for rewards. The program lets LevelUp merchants create customized rewards they give customers who reach certain spending levels. LevelUp takes 40 cents of every reward dollar collected by customers, however LevelUp only gets paid when customers actually use their rewards.
3. Punchcard.
Using the free Punchcard app, customers take a photo of their receipt and tag the business with a location-based geo-targeted listing to earn a punch. If the customer gets 10 punches within six months, Punchcard rewards him or her with a gift card equal to the average purchase amount, but not exceeding $20. Businesses can sign up with Punchcard for between $29 and $99 per location, receiving varying levels of messaging and offer capabilities. Features allow them to personalize offers to customers, discover customers shopping nearby or make limited-time offers. Currently supporting 15 million businesses, Punchcard collects comprehensive data intelligence that tells business owners who is spending what and which customers are coming back, for example. No special equipment is required.
As independent retailers know, it is more cost effective to generate repeat business than it is to acquire new customers. Customer loyalty programs can be an effective way to keep your customers coming back.