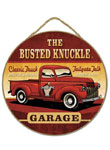 SJT Enterprises, a consumer products company that makes all its products in the USA, is now licensing the Busted Knuckle property on decorative wooden plaques. "The Busted Knuckle brand is on a number of products and sells quite well," explains SJT president Tim Smith. "It appeals primarily to men, of course, so it is great for the man cave, rec room, family room and garage. The fact they are made in the USA and not in China is the icing on the cake that so many retailers and consumers love to see."
Busted Knuckle plaques measure 10 inches in diameter. They wholesale for $4.50 and suggested retail price is $9.99 to $12.99. SJT's minimum order is $100, and shipping is 9 percent of any order within the Continental US.

SJT will be exhibiting at the Surf Expo Show January 9-11, the Sports Licensing & Tailgate Show January 16-18, the Global Pet Expo March 12-14 and the ASD Show March 16-19. For more information and to view its selection of plaques, click here.