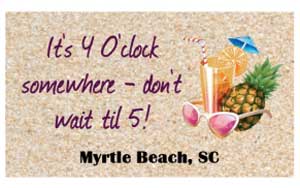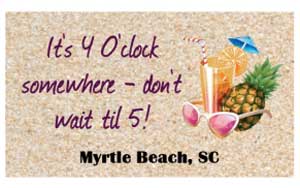 SJT Enterprises is starting off the year fresh with all new fridge magnets that are only 39 cents each! Made in the USA, these magnets come in 200 different beach-themed styles and can be name dropped at no extra cost. For a wholesale price of only 39 cents, retailers of all kinds can make a huge profit.

"People love to bring back a little gift from their vacation for friends and loved ones. With our beautiful new flexible type magnets, they can get a bunch for a $10 bill," SJT president Tim Smith said. "There are 200 different styles — fun beach sayings and sea life photos — so they have a huge selection. At $1.99 or 8 for $10, they are a great money maker for the retailer as well AND they are made in the USA!"
Each magnet measures 2" x 3.5" in size, or business card size. The suggested retail price is $1.99 or 8 for $10, and a free floor display is available with the purchase. To see all of the magnet options for different areas of the USA, visit www.39CentMagnets.com. More display options will be added over the next several months, so be sure to check back soon.
SJT Enterprises has been serving retail customers for 35 years, providing thousands of signs with different designs, all made in the USA and some handmade by local artists. Perfect for souvenir, artisan and handmade shops as well as boutiques and all other stores, these signs offer great profits and high margins.