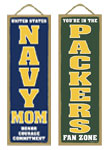 SJT Enterprises, a consumer products company that makes all their products in the USA, has come out with two new decorative wood plaques. The company has introduced new larger sports plaques to its popular line of "Fan Zone" plaques and a new line of military plaques for the moms and dads of service men and women.
The company's decorative wood plaques have become great sellers for hundreds of stores across the USA. The sports plaques feature over 300 professional and college team names. "We came out with other sports plaques several years ago and they have not slowed down," explains Smith. "Now these larger 'Fan Zone' signs have proven to be hot sellers too since retailers continue to place reorders."
The military plaques include Army, Air Force, Marines & Navy "mom" and "dad" plaques. "One of our customers came up with this idea and I immediately saw the potential," explains Smith. "So many of the parents of service men and women are extremely proud that their children serve and would love to have something like these. There appears to be very little else on the market like them."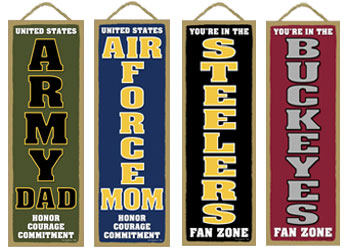 The plaques measure 5" x 15" in size. They wholesale for $4.50 and suggested retail is $9.99 to $12.99. SJT has a minimum order of $100 and the plaques must be ordered in increments of two. Shipping is 9% of the order and a free floor display is provided with an order of 110 pieces or more.
SJT will be exhibiting at the IGES Souvenir & Gift Show November 5-9, the Surf Expo Show January 9-11, the Sports Licensing & Tailgate Show January 16-18, and the ASD Show March 16-19.
Available team plaques can be viewed at www.WholesaleSportsSigns.com by typing "Fan Zone" in the search. Military plaques can be viewed at www.GreatStoreStuff.com by clicking on "Military Products" on the left side of the page.