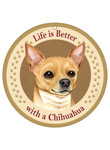 SJT Enterprises, a consumer products company that manufactures all its merchandise in the USA, has introduced a new series of decorative wooden plaques with dog breeds. The round plaques are available with more than 100 popular breeds of dogs, from a black lab to a yorkipoo. The "Life is Better with…" signs feature artwork by world-renowned artists Tomoyo Pitcher and Robert May. Ten inches in diameter, the plaques wholesale for $4.50, and retail for $9.99 to $14.99, each.
"We introduced this series and started shipping them in December," says SJT president Tim Smith. "The response has been terrific since so many of our customers know how well our other dog plaques sell. People love their dogs, and the artwork is second to none. The fact they are made in the USA and not in China is what many retailers and consumers love to see."
The minimum order at SJT is $100. The firm will be exhibiting at the Global Pet Expo, March 12-14, in Orlando, FL; ASD Las Vegas, March 16-19, at booth SL1003; and SuperZoo, the National Show for Pet Retailers, July 22-24 in Las Vegas, at booth 12135.
To view SJT's round dog plaques, click here.
For more information:
SJT Enterprises Inc.
Tel.: 440-617-1100
Website: www.GreatStoreStuff.com