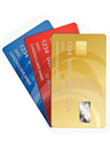 The Experian/Moody Analytics Small Business Credit Index rose 1.2 points to 117 in Q4 2013, the fourth consecutive quarter of improvement in small-business credit conditions and the highest index reading since data tracking began in 2011. Findings indicate that small businesses are now reaping some of the benefits of the nearly five-year-old U.S. recovery, according to Experian. "Credit is flowing more freely to small businesses," Mark Zandi, chief economist at Moody's Analytics, told the Wall Street Journal. "With more credit, small businesses are increasingly able to expand their operations. This means more investment and jobs, and a stronger economy."
Findings from the report indicate that the growth in credit balances was due in part to financial institutions loosening credit terms for small businesses, as well as an increase in business-to-business credit transactions. "The ability to gain access to funding and resources when needed is critical to the growth and success of any small business," says Joel Pruis, Experian's senior business consultant. "The trends seen in Q4 are a good sign for the economy because as more credit options become available to small businesses, the better their chances are to weather the short-term challenges they may face."
Additionally, the October shutdown of the U.S. Government appears to have had little to no effect on small business, as companies with less than 100 employees kept account balances in check, and overall credit balances grew.
Delinquency rates
While the increased availability of credit contributed to the improvement of the index, growth was tempered by a slight rise in delinquency rates. In Q4 2013, the report found that delinquency rates worsened by 0.1 percentage points, increasing to 10.2 percent from 10.1 percent the previous quarter. Furthermore, the rise in overall delinquency rates can be solely attributed to an increase in 30- to 60-day delinquent balances.
"An important clarification to the rise seen in early delinquency is that only a third of it was attributed to past current accounts becoming delinquent," Pruis explains. "The other two-thirds resulted from slower delinquency buckets falling into the 30- to 60-day range. This means that a greater number of severely delinquent businesses improved their payment performance and reduced their debt."
"Optimism for the future remains high, as many believe small-business credit conditions will continue to improve in 2014 and well into 2015," Pruis adds. "However, in order for small businesses to reap the benefits, it will be extremely important for them to maintain strong credit profiles and pay down any existing delinquent balances."
To read more on small business success, click here.