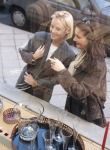 New York City will become the first city in the country to endorse a nationwide initiative known as "Small Business Saturday" two days after Thanksgiving. Launched at New York City Hall by Mayor Michael Bloomberg and American Express Chief Executive Kenneth Chenault, the objective is to get consumers shopping at their locally owned, independent businesses, instead of overlooking community stores, the weekend after Thanksgiving.
"This is the start of a movement," Chenault said at a press conference. "We want to really get people in the local community heavily involved in driving this. This is not a flash in the pan; we are committed to this effort for years to come."
To boost interest among small businesses and consumers, American Express will give $100 worth of Facebook advertising to 10,000 business owners who sign up for the program, Crain's New York Business reports. The company will also give a $25 statement credit to 100,000 card members who register their card and use it at a small business on Nov. 27.
For the complete story, click HERE.