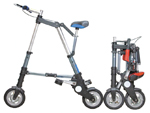 LALAA ENTERPRISE is the exclusive licensed U.S. distributor for the patented, Q-Bike, which is the world's lightest and smallest folding adult bicycle. It was originally designed and created in the U.K. and later patented in China. Q-Bike is made of a polymer composite and weighs just under 14 lbs. Unfolded, it measures about 37 inches long and 37 inches tall. Folded, it measures about 27 inches by 16 inches, and fits into a slightly enlarged backpack, which is included with the unit.
No tools are required to fold it, and it folds and unfolds in about 10 seconds. The process is simple, and complete instructions are included in the box. It has eight inch tires, holds up to 200 lbs., and travels at up to 15 miles per hour. It has an adjustable saddle height, and its braking force complies with traditional bicycle standards. Q-Bike is offered in a choice of blue, red or black.
The minimum order is 10 units. In that quantity, the wholesale price is $85. The suggested retail price is $149.
For more information, contact:
LALAA Enterprise
18000 Studebaker Road
Cerritos, CA 90703
Toll Free: 800-624-5465
Tel.: 562-920-4198
Website: www.iq-mall.com