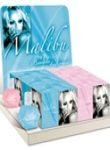 PERFUME CENTER OF AMERICA INC. has introduced a new celebrity fragrance, Malibu, by Pamela Anderson. It comes in two sizes, each of two different forms. There is Malibu Blue for Playful Days, and Malibu Pink for Elegant Nights. Both come in 1.7 ounce and 3.4 ounce sizes. The daywear version is more subtle, while the nighttime version is heavier. It contains a fresh bergamot blend of Bulgarian rose and Orange blossom.
The perfume was made without animal testing, and a portion of the sales proceeds are donated to PETA. The units are packaged in elegant glass bottles. Point of sale materials are available, including renderings of Pamela Anderson and countertop displayers containing both the day and night versions of Malibu.
The minimum order had not been determined at press time, nor had the wholesale pricing. The suggested retail prices are $39.99 for the smaller bottle and $49.99 for the larger one. This company supplies about 4,000 different perfumes and related goods.
For more information:

Perfume Center of America Inc.
100 Commercial Street
Plainview, NY 11803
Tel.: 516-576-1300
Website: www.perfume-center.com